'Safe rates' refers to a legal and regulatory framework that make clients (or economic employers) responsible for fair rates of pay, working conditions and safety throughout the supply chains they control. The concept was first developed in Australia through the campaigning of the Transport Workers' Union (TWU) and is now used by scholars, ITF affiliates and some governments globally. Safe rates or similar systems exist in many countries including Australia, South Korea, the Netherlands, the United States and Canada, and Safe Rates principles are included in the 'ILO Guidelines on the promotion of decent work an road safety in the transport sector'.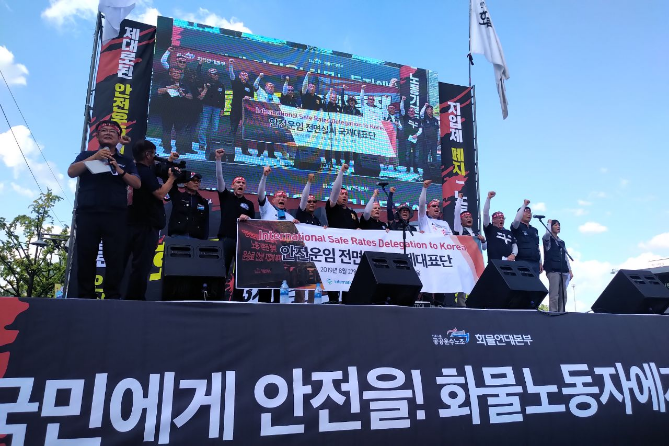 ITF affiliates are using Safe Rates campaigns to make road transport more safe and sustainable, progressively build union membership, expand union influence over supply chains and shift power away from capital to workers.
In Australia, the Transport Workers' Union (TWU) has won Safe Rates laws and regulations at the state level and the inclusion of Safe Rates principles in national agreements with main retail clients. TWU's strategy integrates organising and industrial action, community outreach, academic research and political action to name and shame 'bad' economic employers for unsafe supply chain practices while also raising public awareness about the rates-safety connection and the need for stronger regulation.
The TWU has developed a long-term plan (Vision 2035), which envisions the reorganisation of the road transport industry through the introduction and expansion of national Safe Rates legislation, the achievement of industry standards and unprecedented organising rights through agreements with all major economic employers and the achievement of 70% union density in all markets.
Learn more about the TWU's Safe Rates campaign.
In South Korea, the KPTU Cargo Truckers Solidarity Division (KPTU-TruckSol) won the passage of Safe Rates legislation in 2018 after over 15 years of struggle. Exchange with the TWU beginning in 2013 helped TruckSol to complement national strike action and legislative activities with a broader campaigning and public outreach approach based on the call for "safety for the public and rights for truck drivers".
Since the publishing of minimum rates at the end of 2019, TruckSol has engaged in protest and strike action to force economic employers and trucking companies into bargaining on the enforcement of rates. This has led to agreements in several locations, plus the organising of over 4000 new members. These victories have been won despite the fact that the Korean road freight market is composed almost entirely of owner drivers (dependent contractors) who are denied freedom of association and collective bargaining rights under Korean law.
Learn more about KPTU-TruckSol's Safe Rates campaign.
More on the Safe Rates Model
The Safe Rates model involves the setting of legally enforceable minimum rates of remuneration necessary to ensure that drivers are not pressured to engage in unsafe driving practices such as speeding, overloading, working for excessively long hours and driving when fatigued. Rates are legally enforceable and compensate workers for all driving and non-driving work time. Ideally, they system applies to all drivers regardless of what they carry, what type of vehicle they drive or if they are employees or owner drivers.
The Safe Rates model imposes enforceable legal obligations upon all firms operating in road transport supply chains, particularly economic employers, to contract in a way that ensures drivers are remunerated at or above the minimum rates and do not face other pressures to engage in dangerous on-road behaviour. The concrete content of these obligations is developed through active engagement with road transport stakeholders, most importantly unions. The system includes mechanisms for monitoring, enforcement and dispute resolution, again with union involvement.
Learn more about the Safe Rates Model and its application in different countries.