Trade union rights are being blocked
DHL is a leading company in India, with around 1,100 staff who have been fighting for union recognition since 1999. In 2002, an agreement in principle was reached, but harsh reprisals from management – including intimidation, non-recognition and forced relocation – soon followed.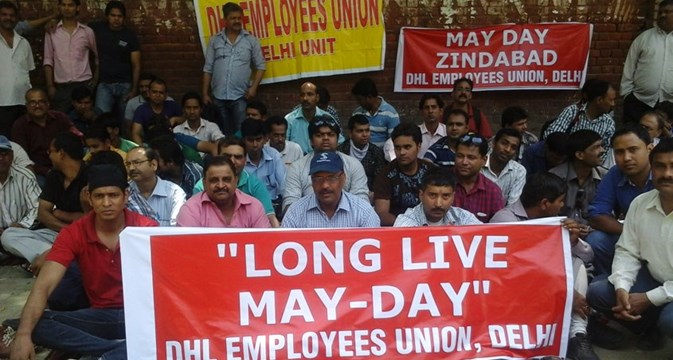 Within a year, several senior union members were sacked from their jobs. In 2004, 15 staff members were transferred from Kolkata to Delhi and away from their homes and families against their wishes, and 20 were transferred from Mumbai to Delhi.
In addition, almost all recruitment of new couriers for the last few years has taken place in the controversial `Hay Grade' category (managerial category). Another problem is outsourcing, which has reduced the strength of union membership, while rapidly increasing workloads at all centres is seeing fewer staff forced to shoulder more work.
How relations with unions differ across India
In Chennai there is a working relationship between the union and management, and workers were able to negotiate a wage increase in 2012. However, in other cities – including Delhi, Jaipur, Kolkata and Pune – management has refused to negotiate, or recognise the union. The Mumbai employees' wage negotiation case is locked in a court battle.
DHL trade union members in India have taken their concerns to the Organisation for Economic Co-operation and Development (OECD). They are fully supported by ITF UNI network in DHL and the global delivery network.
Show your solidarity for DHL workers in India
To find out more about showing solidarity with workers at DHL India, contact ITF's supply chain and logistics team.
You can also stand up for union rights at DHL India by joining the DHL network.