Supporting workers on the supply chain
The Components to carriers network is global, bringing together aviation, logistics and aerospace unions and activists. Its aim is to improve working conditions for all workers along the aeronautical supply chain.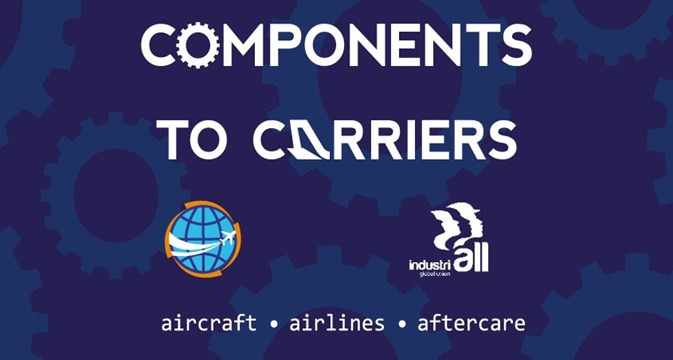 This network will allow workers to better realise their collective power along global supply chains. Whether they're making aircraft and engine parts, hauling components, carrying out aircraft maintenance, working in logistics or operating aircraft, activists are coordinating their collective power to: 
share wins and best practice
foster solidarity
build joint strategies to grow worker power
map union strength in strategic locations
gather intelligence on global corporations and shifts in the supply chain 
This global initiative is supported by ITF and IndustriALL. Together, we represent over 50 million workers worldwide from the mining, energy, manufacturing and transport sectors. Like us, IndustriALL is committed to fighting for better working conditions and trade union rights around the world. 
Join the activists' network 
The network brings together union activists from:
aircraft manufacturers, including Boeing, General Electric, Embraer S.A., Bombardier, Rolls Royce and Airbus
workers in maintenance, repair and overhaul (MRO), including Lufthansa Technik, British Airways, Air France, Air Canada, SIA Engineering (Singapore), Aeroman (El Salvador), Hong Kong Aircraft Engineering Company Limited (HAECO), Singapore Technologies Aerospace and American Airlines
logistics workers from aerospace logistics specialists such as CEVA, KLM Cargo, Kuehne & Nagel and Daher
aviation workers for the airline operators, including BA, Iberia, American Airlines, Lufthansa, KLM/Air France, Aeroflot, Aero Mexico, Northwest Airlines, Air Canada, Air New Zealand etc
Contact us to join the activists network today!