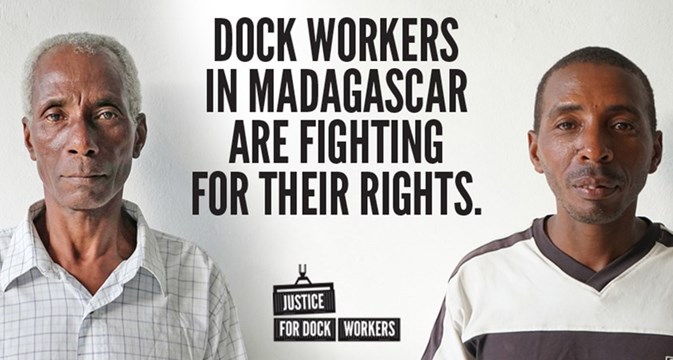 About the campaign
Madagascan dock workers are some of the lowest paid in the world. Some earn less than US$40 per month. Workers struggle to support themselves and their families despite long hours doing difficult, dangerous work. When they came together to fight for an end to precarious, low-paid and unsafe working conditions - they were sacked.
Now they are fighting back, and asking you to stand with them.
Management came to us and told us that if we didn't leave the union we would lose our jobs. But we wanted to stay with SYGMMA to fight for better work.
The problem
Sackings, intimidation and precarious work at the ICTSI Port of Toamasina
43 dock workers were sacked for fighting for better wages and against dangerous conditions. After joining their union, they faced intimidation and retaliation from management – who gave them two options: leave the union or lose their jobs. The workers refused and were sacked, contravening their rights to freedom of association. None of the 43 workers have been reinstated. Most are struggling to survive.
The solution
The Government of Madagascar must enforce its local labour laws
This will ensure that workers are reinstated immediately, and that their union is allowed to organise and support workers in their fight to improve working conditions.
Learn more
Read the report Poverty and intimidation at the gateway to Madagascar, to understand more about the precarious work, injuries and sacking at the Port of Toamasina, Madagascar.