Drawing on our unique power as a global union with a mass democratic power base
Activating mass membership is about drawing on the unique power of global unions, which are the only mass democratic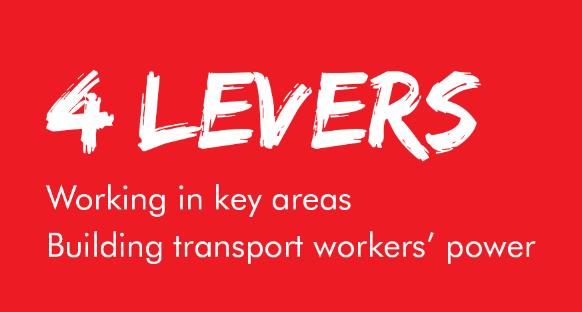 organisations on the global stage, and demonstrating this power to governments and employers.
This is particularly important in sections such as railways, where union membership is very high, but where the industry structure is less globally networked.
The transport industry involves many of the mass occupations of the present and the future, such as drivers and public transport workers, airport workers and seafarers. As unions in the transport industry, we need to make sure that in addition to focusing on the most strategic targets, we are developing the power of workers to mobilise collectively and fight for their rights.
Example: Mobilising young workers in Indian railways
The All India Railwaymen's Federation (AIRF) represents 1.1 million workers in the Indian railways. An estimated 30% of AIRF members are under 35. The union faces major strategic challenges. Privatisation plans could lead to public private partnerships and foreign direct investment in the India railways for the first time.
Heavy investment in new rail freight corridors means there will be a shift away from the union's heartlands in passenger operations.
The AIRF leadership is looking to young workers to help transform the union and meet these challenges. Over 2017-18, the union will run a major training programme for young workers focusing on organising and campaigning skills. 168 young workers will be trained over this period, and the emphasis on train the trainers means there will be significant capacity for ongoing activist development.
We need to ignite our base of young workers to meet the challenges of the future. Our union needs new strategies to deal with privatisation, and we will also need activists throughout our all levels of our union who can fight for a fair transport system.' Shiva Gopal Mishra, General Secretary, AIRF
Example: Airport-wide organising in Amsterdam
Schiphol Airport in Amsterdam is one of the world's busiest airports, and the largest employment site in the Netherlands, with 65,000 people working on site. ITF affiliate FNV has made the airport an organising priority, and is building membership and activism across all the major occupational groups in the airport, including ground handlers, airline employees, cleaners, and security guards. Working conditions at the airport have deteriorated significantly over the past two decades.
Raising standards on such a large and complex worksite is challenging. The union strategy, however, is airport wide. The union believes it is vital to mobilise large numbers of workers in all categories to build power in the airport. The FNV approach is to fight for specific goals for each group of workers, for example the campaign recently won a reduction in standing time for security guards. At the same time it is actively campaigning on the widely felt issues that impact workers airport wide such as job security. The union is campaigning for a minimum of 80% permanent full-time workers across the airport.