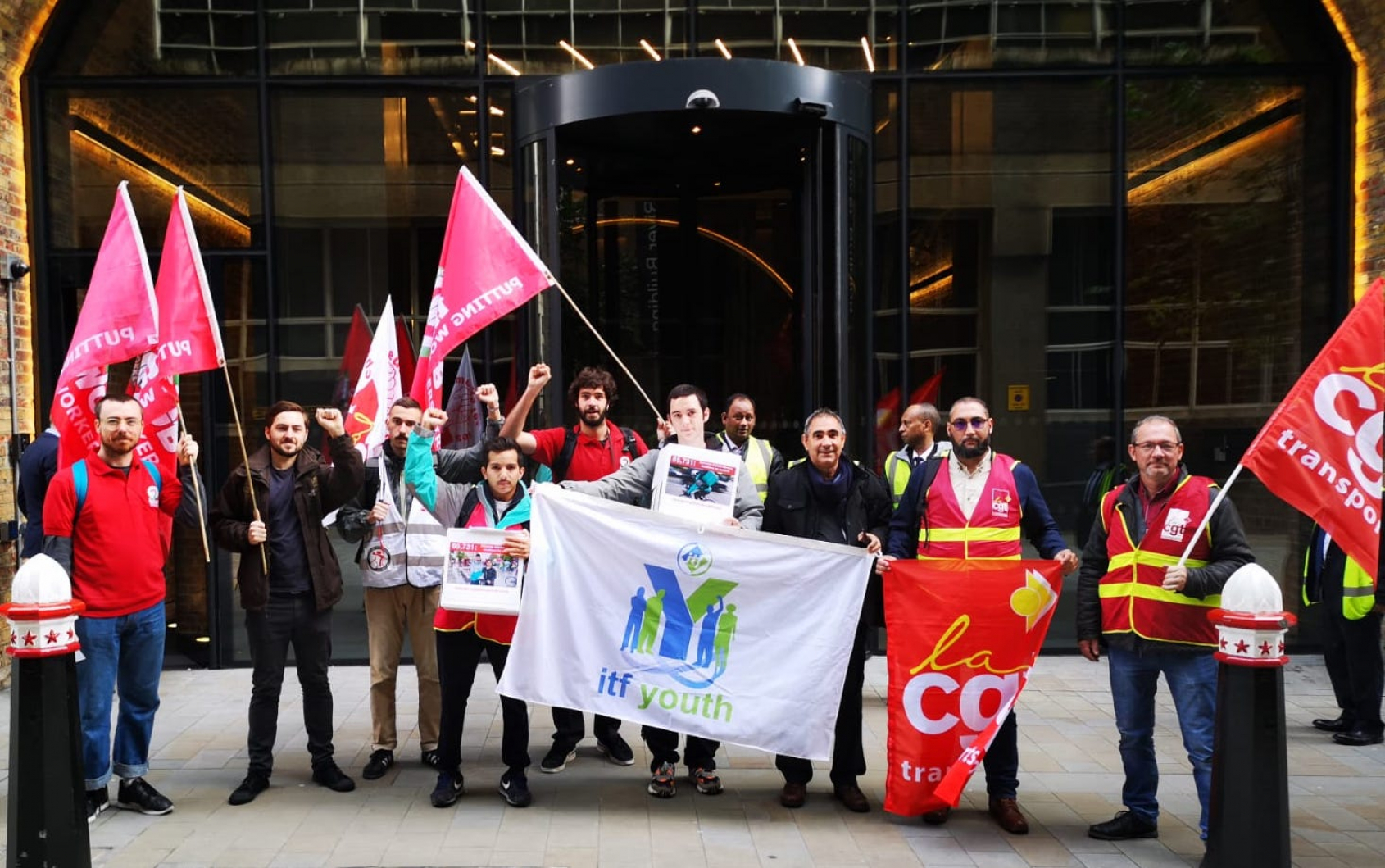 Recently, the ITF highlighted the news of a historic agreement for food delivery workers, and now the Confédération Générale du Travail (CGT) are building the pressure in France on food delivery company Deliveroo.
This led to Deliveroo rider Jérémy Wick cycling 600 miles (960 km) to the company's London headquarters. On the way he collected signatures for a petition backing his campaign for basic workers' rights. 
However, when he attempted to hand deliver the 66,000 signature petition at Deliveroo HQ in East London, he was denied entry. He was joined in London by ITF activists. 
Mr Wick has worked for Deliveroo for two years, but was driven to action after his minimum pay was halved, making it hard to survive. 
His petition calls for: 
the reintroduction of a 'decent and a fixed minimum rate per trip'

the 'reinstatement of bonuses'

the 'display of the actual distance before accepting a delivery'

recognition of 'a representative body of bikers with real negotiating power'
Mr Wick first took his complaints to management in Bordeaux. They told him to go to management in Paris, but they pushed him on to the London HQ. 
Mr Wick, who works around 50 hours a week and cycles over 1800 miles a month, told Left Foot Forward: "We want to share a message with couriers working for Deliveroo around the world that nobody is alone, we are together and we are going to fight together. We sweat together so now we have to fight together to get more impact."
London-based Deliveroo rider and Independent Workers of Great Britain union activist Greg Howard was with Mr Wick at Deliveroo HQ: "Deliveroo is taking its workers for a ride in every country where it operates. It is happy to pay below the legal minimum and ignores all our calls for decent pay and conditions.
"The decision of senior management not to communicate with these riders today just shows their flagrant disregard of worker's rights and shameful archaic faux employment practices. 
"But increasingly, everywhere from Bordeaux to Nottingham, riders are coming together to fight back against these exploitative conditions."
The ITF young transport workers' team is leading the work to assist gig workers as they organise to win fair treatment, respect and the basic rights they deserve.