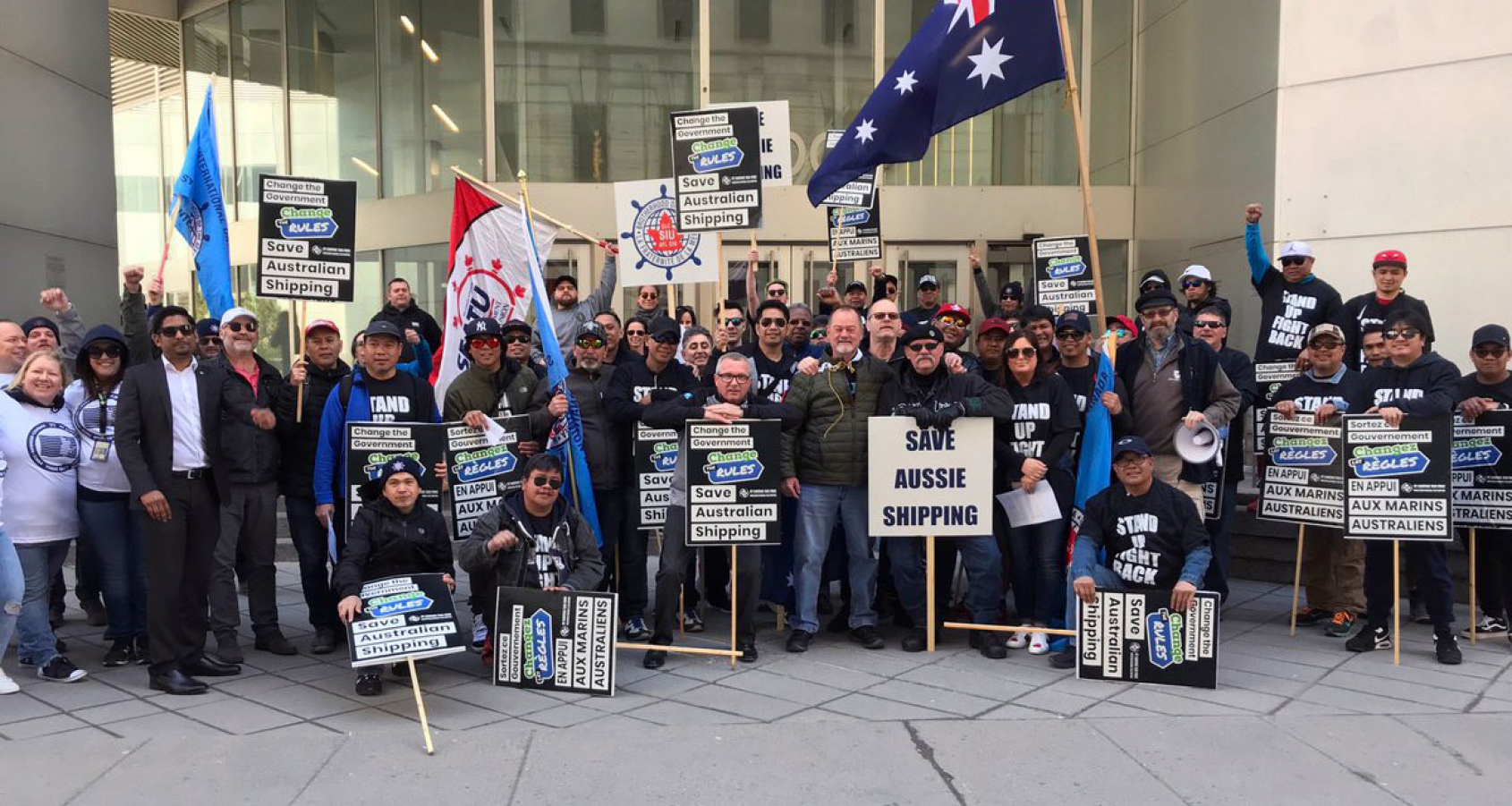 Maritime workers around the globe have rallied in an international show of solidarity for Australian seafarers. The global day of action coordinated by the ITF Cabotage Task Force brought together maritime unions from every continent.
Protests outside Australian Embassies and Consulates, corporate offices and on the waterfront called for a reinvigoration of Australia's domestic shipping industry and urged Australian voters to change the government at the upcoming Australia federal election on May 18.
"Today's global demonstrations highlight the resolve of transportation workers to stand shoulder to shoulder with Australian seafarers in their fight to protect their jobs and save Australian shipping," said James Given, Chair of the ITF Cabotage Task Force.
"The current Australian government has failed Australian seafarers through deregulation of the industry and permitting Flag of Convenience vessels to operate in Australia's coastal trade which has resulted in the loss of thousands of jobs in the sector.
"Australian shipping hangs in the balance this election and voters have a clear choice – back a party who have committed to create a strategic fleet of Australian-crewed vessels and strengthen coastal shipping regulations or choose a party who is actively supporting the industry's decline. The choice is simple: we have to support those that support us," said Given.
Around the world – from Chile to Germany, Canada to the Philippines, India to the US, Poland to Norway - seafarers, dockers and other maritime industry workers sent a clear message: that to save Australian shipping, the country needs change the government.
ITF President and Maritime Union of Australia national secretary Paddy Crumlin today reflected on the international protests: "The fact that thousands of transport workers around the world joined in this global day of action highlights the importance of this fight and the global significance of saving Australia's shipping industry.
"All over the world people are standing behind us because they know if we save Australian shipping, protect domestic seafarers' jobs and bring vessels back under the Australian flag, this is good news for the cabotage fight globally.
"It's time to change the government, change the rules and save Australian shipping," concluded Crumlin.
 
Contact: Luke Menzies | +61 (0) 433 889 844 | menzies_luke@itf.org.uk