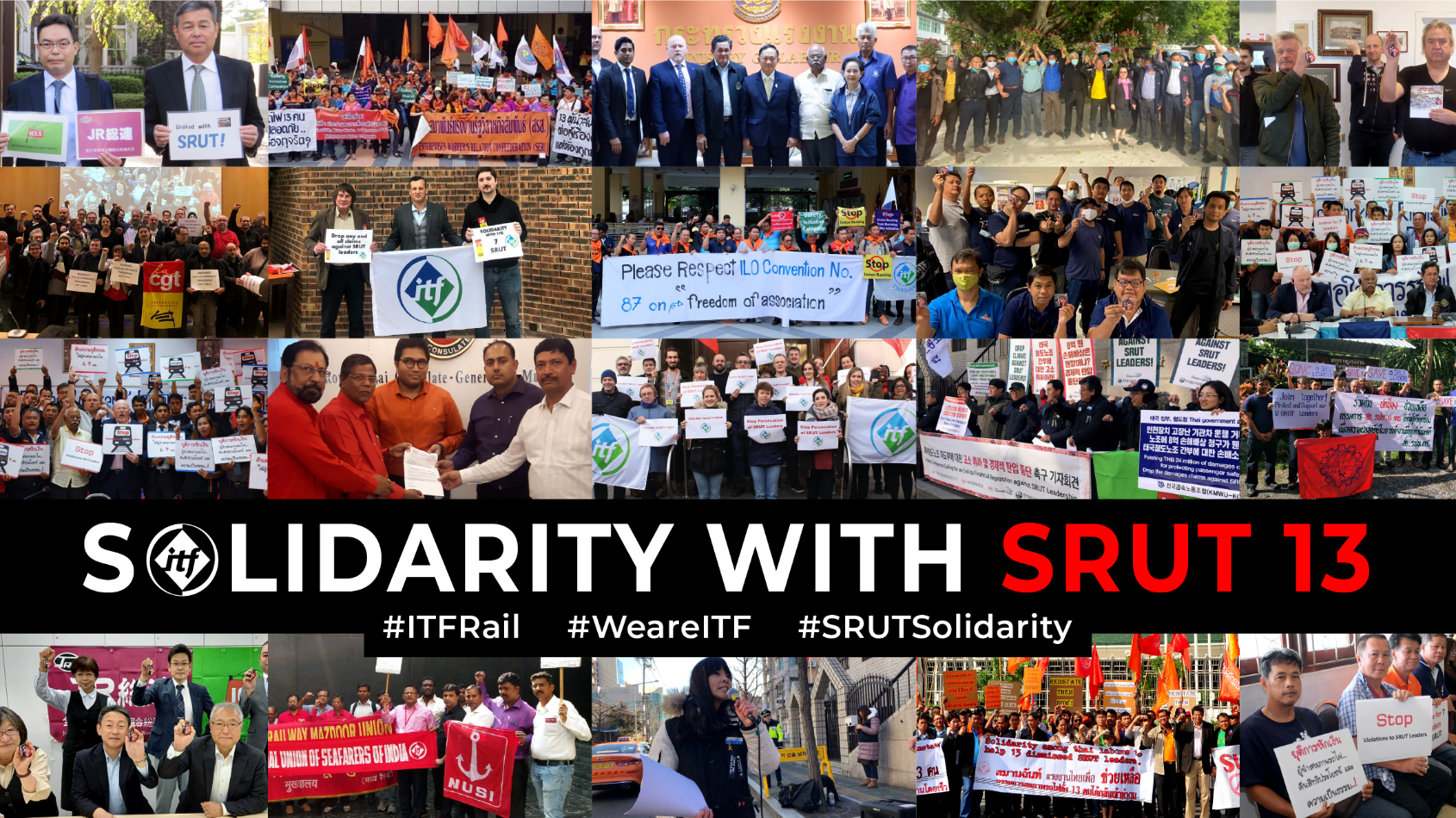 Global transport unions today renewed their support for leaders of the State Railway Workers' Union of Thailand (SRUT) following the lodging of a new appeal to Thailand's Central Criminal Court for Corruption and Misconduct to overturn prison sentences and punitive fines handed down by Thai authorities.
The ITF Executive Board passed a resolution today pledging solidarity to the SRUT 13 in their struggle for justice after being mercilessly pursued by the State Railway of Thailand (SRT) through the Thai legal system for carrying out a national rail safety campaign following a fatal train derailment in October 2009 at Khao Tao Station. 
David Gobé, ITF Railways Section chair, called on transport unions to support the global solidarity campaign and fight for justice for the SRUT 13.
"The SRUT 13 have been persecuted for protecting people's lives following a derailment that killed seven passengers and injured many others. As we have said, and as we will continue to say until this brazen attack, injustice and humiliation ends, efforts to protect lives and make railways safer for both passengers and workers should be applauded, not prosecuted," said Gobé.
"Transport unions globally today vowed to show their strength, tenacity and unwavering solidarity until the SRUT 13 have their freedom restored, and vowed to defend any attack on workers' fundamental rights to a safe workplace and freedom of association," added Gobé.
The SRUT leaders have been scapegoated for an accident that both The National Human Rights Commission of Thailand and an internal fact-finding investigation concluded was primarily caused by the poor maintenance and condition of the locomotive. In 2013, the International Labour Organization (ILO) found that the action taken by the SRUT leaders was industrial action, and therefore protected by the principles of freedom of association. The ILO has also categorically stated that allegations of criminal conduct should not be used to harass trade unionists by reason of their union activities and that sentences imposed on workers' representatives for activities related to the defence of the interests of those they represent pose a threat for the free exercise of trade union rights.
Despite widespread international condemnation, the three-year prison sentences handed down in October 2020, as well as punitive fines that have been deducted from the monthly salaries of seven of the SRUT leaders since November 2018, still hang over the heads of the union activists.