International Workers' Day 2021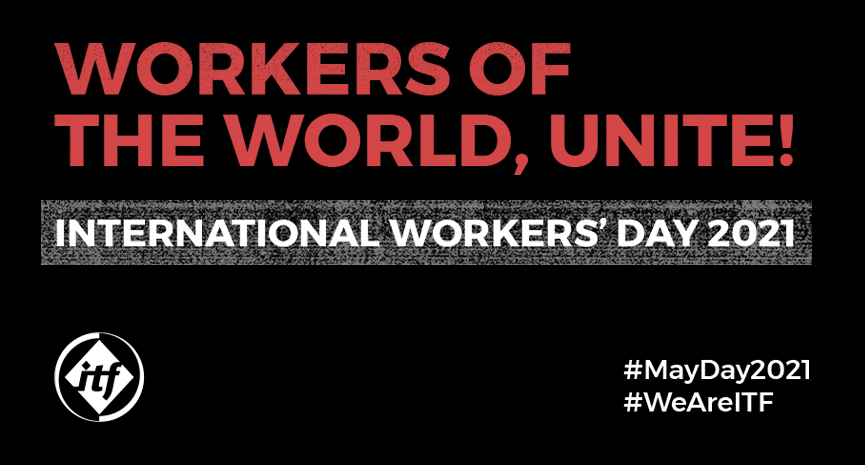 キャンペーンについて
Workers of the world, unite!
Transport workers have been on the frontline during this pandemic. The world has realised that we cannot keep our global economy or society moving without transport workers and our trade unions.
We must seize this opportunity.
We face many challenges - health, climate, technological, industrial, political, social and economic. We have a chance now to fight for climate justice to build social justice, for industrial rights to guarantee health and safety and for political justice to secure economic justice.
Unions are fighting, working with and demanding that governments and employers invest trillions in infrastructure and jobs. We must avert climate disaster and destructive inequality by building a new model of sustainable transport. We must combat youth unemployment and campaign to ensure that existing gender, racial ethnic, religious, political and industrial abuse, discrimination and exploitation are not perpetuated or intensified.
Public ownership, public investment, democracy and decent work must be at the heart of a union-led just transition for transport.
The past year has shown governments and companies that their supply chains are only as strong as its weakest link. Decades of subcontracting, informalisation and a race to the bottom in pay and standards have made global supply chains vulnerable. We have a chance to shift power from capital to workers, down supply chains, into our communities.
This year has not been easy. We may have been kept apart because of the pandemic, but we are closer together than we have ever been.
Solidarity today, tomorrow and forever. We are the ITF. Happy May Day!