news
Press Release
11 Mar 2022
A number of injuries sustained by migrant fishers are being linked to a culture of excessive hours underpinned by a controversial work permit scheme currently under review.
Campaign Lead for the International Transport Workers' Federation (ITF) in Ireland, Michael O'Brien, told media today that fishers were working longer hours than was safe or legal, but that the risk of fishers losing their visa status if they are fired or taken out of work due to injury meant many feel compelled to endure unsafe practices on board. 
 A sample dossier had been compiled of x-rays, photographs and official medical reports and made available to media on request.
In all of the cases fishers told the ITF of excessive hours in the industry. 
"Some vessel owners would say 'fishing is a dangerous job'. But the pictures of these injured fishers speak for themselves: excessive hours and a culture of health and safety cover-ups have become the industry norm when it comes to migrant fishers," said O'Brien. 
"The recurring testimony we received from migrant fishers, both those documented and undocumented, is of working 15 to 20 hours in a single stint, sometimes more. This can go on for days on end."
"The dossier we have compiled contains a sample of the injuries that are all-too-common in this sector. There are injuries often arising from the wear and tear caused by excessive hours, especially chronic back problems. And then there are the serious injuries we've documented arising from onboard accidents – most commonly to the hands and fingers, where fatigue can be a contributory factor."
Visa scheme makes it dangerous to speak out on health and safety 
O'Brien said that the government's current review of the Atypical Work Permit Scheme, which is due to conclude this month, has the potential to improve safe working.
"In our written submission last month, the ITF made the case for ending the annual renewable visa system that completely ties a fisher's migrant status to a vessel owner."
"Fishers tell us that this creates such a power imbalance that they are unable to say no to the daily demands to work excessive and illegal hours, risking their safety," said O'Brien.
"Getting to the root of this problem will require that the government abolish the Atypical Work Permit Scheme and move the fishers to the Critical Skills Permit Scheme instead. Shifting migrant fishers towards this more advantageous scheme will give them the ability to challenge dangerous working conditions and ultimately change employer and keep their right to stay living and working in Ireland."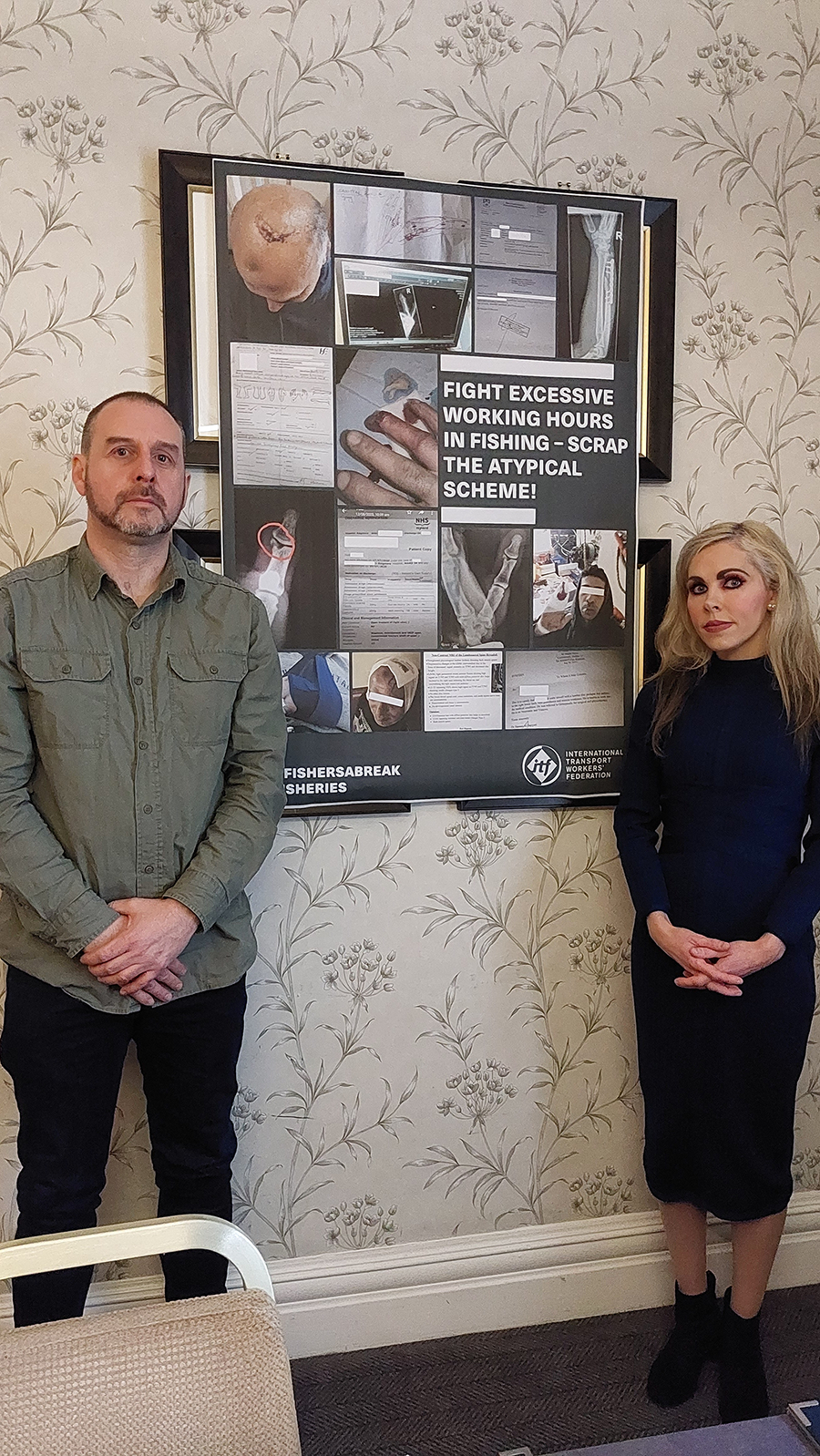 Injuries leading to fishers becoming undocumented
Speaking alongside Michael O'Brien was Rhea Bohan, solicitor at Cathal N Young, O'Reilly and Company. Bohan is representing 15 migrant fishers (documented and undocumented) in 'change of visa status' applications filed with the Department of Justice. 
Bohan said that injuries can lead to migrant fishers becoming undocumented and in violation of the law:
"A common feature of the undocumented fishers' cases that I am representing is that, either: the cumulative effect of the inhumane hours they have worked; or an accident resulting in injury; brought them to a point where either they could no longer work in fishing or they required adequate time to recuperate that the vessel owners were unprepared to allow. This resulted in the termination of the working relationship and the fisher becoming undocumented and, once eventually recovered, resuming work on other vessels on that undocumented basis."
"A permit scheme that did not make the fisher's legal status totally reliant on an ongoing, exclusive employment relationship would afford workers the right to recover from injuries and return to work, or ultimately to seek work in alternative sectors when work in fishing simply becomes too physically taxing or dangerous.
"The government have an opportunity with the current review of the Atypical Scheme to not simply improve the lot of the current and future documented fishers in the sector. I agree with the ITF's argument that the review is also an opportunity to deal with the legacy of hundreds of undocumented fishers and former fishers living right now in Ireland, many of whom got into their current immigration predicament because of a workplace injury in the first place. They deserve a pathway to regularise their status and call Ireland home."
END
Note to Editors:
Following the publication by Maynooth University Law Department of the 

Experiences of Non-EEA Workers in the Irish Fishing Industry

 

last October which collated testimony from migrant fishers of ongoing abuses in the sector the Government announced that an inter-departmental group, headed up by the Department of Justice, would carry out a review of the Atypical Work Permit Scheme. Written submissions were received from stakeholders 

including the ITF

 

. In a subsequent face to face discussion between ITF representatives and the senior officials conducting the review it was indicated that the process would be concluded this month.
About the ITF: The International Transport Workers' Federation (ITF) is a democratic, affiliate-led federation recognised as the world's leading transport authority. We fight passionately to improve working lives; connecting trade unions from 147 countries to secure rights, equality and justice for their members. We are the voice for nearly 20 million working women and men in the transport industry across the world. FORSA, SIPTU and Unite the Union are the ITF's affiliated unions in the Republic of Ireland. 
Media contact: Michael O'Brien   o'brien_michael@itf.org.uk   +353 872 400 331