Making road transport safe, fair, and sustainable
What are

S

afe

R

ates?
Road transport workers commonly face pressure to drive for long hours, work while fatigued, speed and overloading their vehicles just to be able to make a living. These pressures usually start at the top of road transport supply chains with low-cost tendering practices and unreasonable demands made by the big companies that contract for road transport services to deliver their goods. Economic pressures are passed down to transport companies and then on to drivers in the form of low pay, poor conditions, and increased work intensity - making dangerous on-road practices unavoidable and putting all road users at risk.  
Guaranteeing Safe Rates mean drivers are paid fairly for all the time they work, allowing them to make enough money to drive safely and support their families. If drivers own their own vehicles, Safe Rates must be calculated to ensure that they can cover the cost of purchasing, maintaining, and operating them.  
Safe Rates can be guaranteed through union agreements with transport operators and their clients, or in legal regulatory systems which: 
Set standards for pay and conditions that are fair and equal for all drivers 

Hold all industry stakeholders accountable, including the companies at the top road transport supply chains 

Include strong provisions on monitoring and enforcement 

Involve unions in the process of setting, monitoring, and enforcing standards. 
Internationally proven 
Safe Rates systems have improved the lives of road transport workers and their families, strengthened road safety, and made road transport more sustainable in countries around the world including Canada, Brazil, Australia, and South Korea.  
Safe Rates in the Australian state of New South Wales have saved over 205 lives that would otherwise have been lost in truck crashes.  
After two years of implementing Safe Rates in South Korea, driver experience of dozing at the wheel decreased by over 60%.   
Adopted by union, government, and employer representatives in 2019 at the International Labour Organisation (ILO), the Guidelines on the Promotion of Decent Work and Road Safety in the Transport Sector  (ILO Road Transport Guidelines) call on ILO member states to implement, and all road transport industry stakeholders to comply with Safe Rates systems and principles.  
Unions uniting global

ly

for Safe Rates
On 22 September 2023, the ITF and its affiliates launched a global Safe Rates Campaign calling on governments and road transport industry stakeholders to: 
Implement Safe Rates systems 

Guarantee a fair price for transport  

Strengthen supply chain transparency 

Strengthen compliance and remedy for violations 

Guarantee trade union rights  

Implement the ILO Road Transport Guidelines and related international labour standards  
Unions can join the campaign by endorsing the Safe Rates global statement of demands and working with ITF to fight for Safe Rates in their workplaces, sectors, and countries.   
Connected
news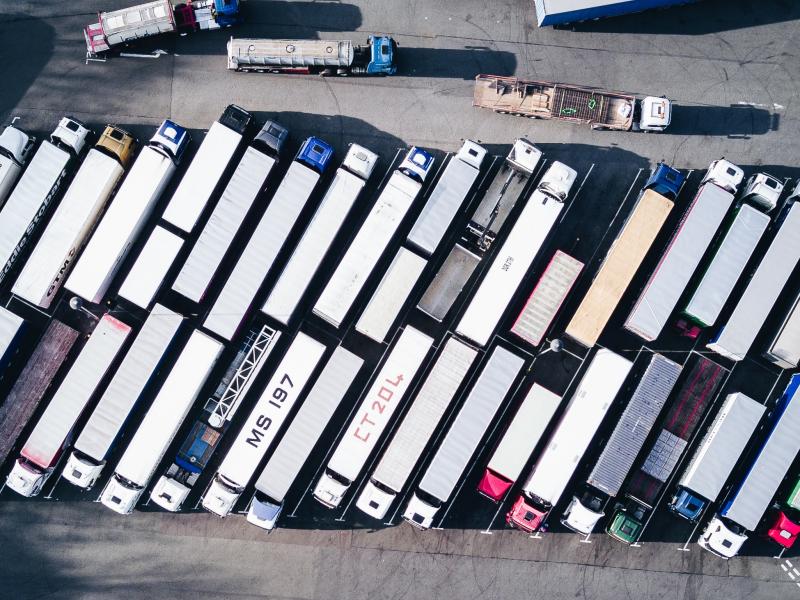 news
Press Release
28 Nov 2023
IRU and ITF have reinforced their commitment to drive a just transition and improve the accessibility and attractiveness of the commercial driver profession with a Just Transition for Transport Pledge
resources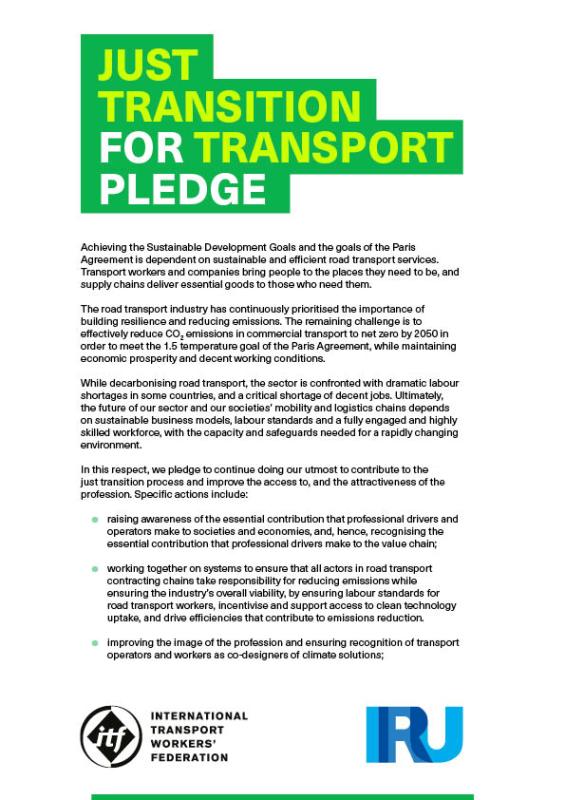 On the eve of COP28, the International Road Transport Union (IRU) and the International Transport Workers' Federation (ITF), respectively representing over 3.5 million road transport operators and 18