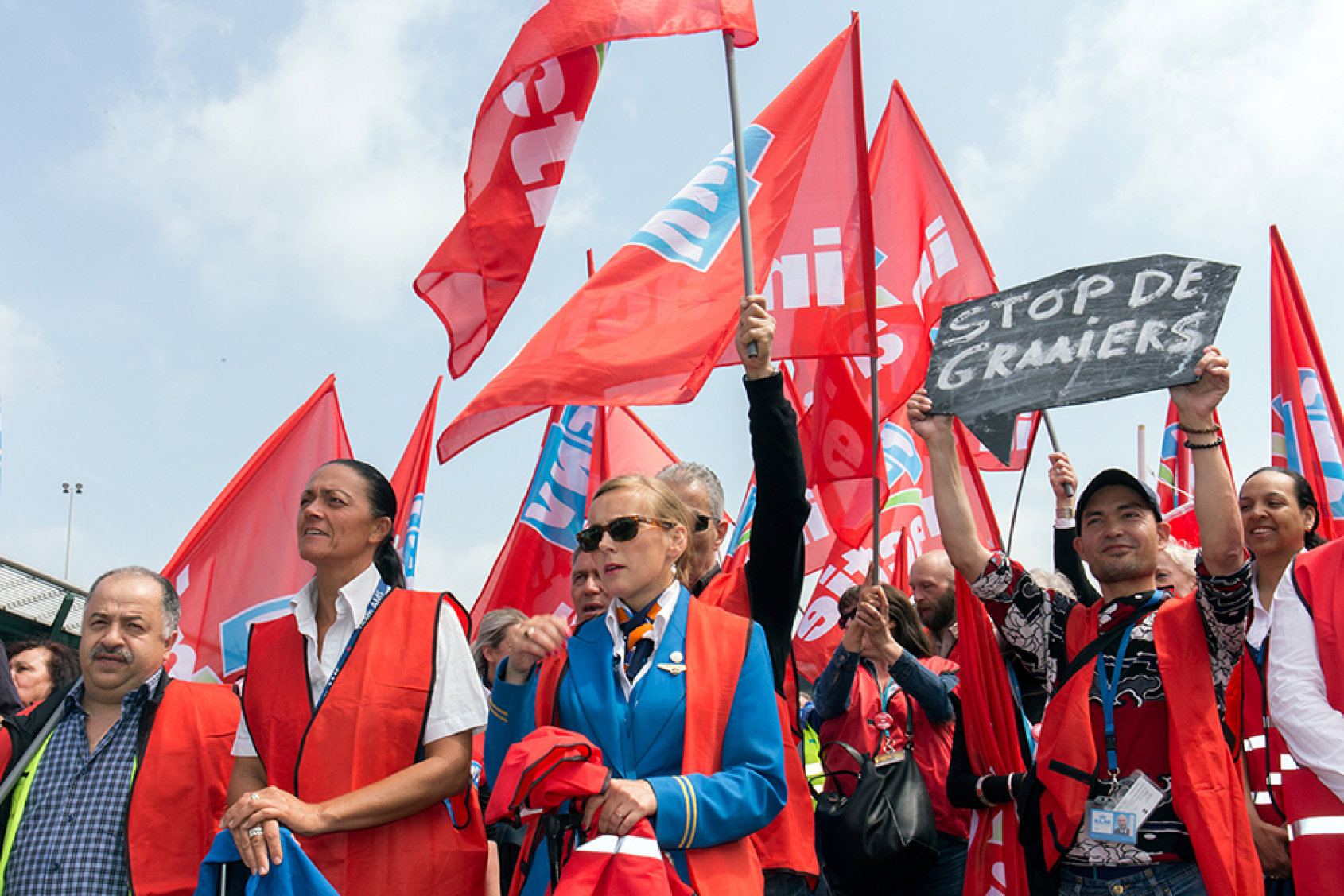 Security and other ground workers at Schiphol Airport, the Netherlands, are celebrating two important wins in their fight for better conditions and improved security.
KLM has been forced to drop its plans to include in the collective bargaining negotiations with the FNV union the outsourcing of 6,000 of the 17,000 ground workers' jobs at Schiphol.
The widespread anger of the baggage handlers, depot, check-in and other workers led to huge participation in the FNV action day and demonstration outside KLM's head office on 19 May. Within a day, KLM agreed to drop the proposals and start the negotiations with a clean slate. There will be further actions to keep up the pressure on the company until the negotiations conclude in early July.
On 2 June Schiphol and its security companies agreed to employ at least 40 more security workers, to reduce standing time during passenger control to two hours (in line with the latest scientific recommendations), and to introduce climate control – all to be implemented by guaranteed deadlines.
This followed a series of short stoppages – organised via SMS messaging – during which workers leafleted passengers about their concerns over security risks, and a big action day on 1 June alongside baggage handlers, cleaners and other ground staff. A FNV survey of security workers in February had revealed very high levels of concerns over workload, light levels and heat in the workplace.
Schiphol was one of 33 airports at which protests were organised on 1 June to launch Airports United, a new global network of airport workers to fight for economic justice, safety and security in the industry.
Cihan Ugural, FNV campaign leader, said: "We are very happy with the wins for our ground workers, and the victory for the security workers. The Airports United global actions on 1 June really helped us as they gave Schiphol the last push. We've demonstrated worker power so we are clearly on Schiphol's radar now."
ITF civil aviation secretary Gabriel Mocho congratulated the FNV and said these outcomes should inspire other workers in the new Airports United network.
Show your support for Airports United on Twitter and Facebook using #airportworkers.