End violence against women UN day 2017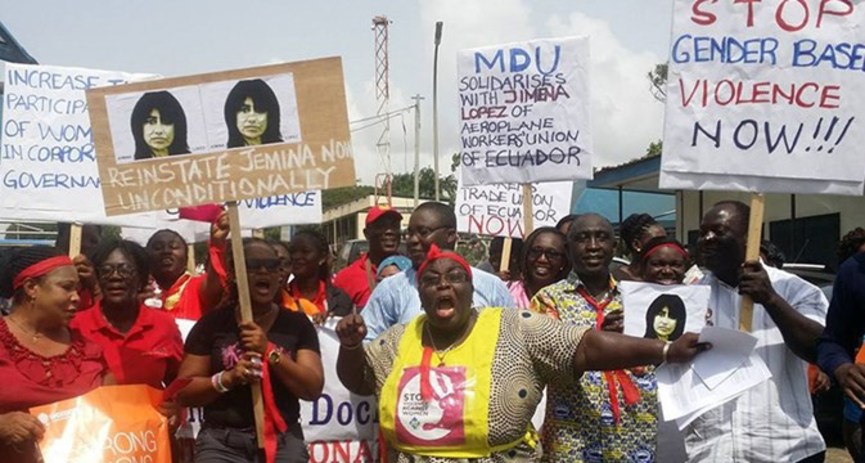 About the campaign
Violence against women - whether it's physical, emotional, psychological or sexual abuse, in the home, in the workplace or the community - is a trade union issue. Every year the United Nations (UN) Day for the Elimination of Violence Against Women offers us all a mobilising tool to fight the problem with.
On UN Day 2014 the ITF encouraged affiliates for the first time, to join the ITUC campaign and lobby their governments for an International Labour Organisation (ILO) convention on violence and harassment at work. Over the last 3 years our aim has been to build an indisputable body of evidence of the gender-based violence that women who work in the transport industry face. This evidence can take the form of statistics and/or personal testimony and can be used to lobby national centres and governments. It can also be useful in negotiations with employers.
"A woman was raped and her underwear was hung on the notice board, whilst the offender boasted to the rest of the crew that he had finally 'got her'." Maritime worker
"During a 15-year railway career, I have been sexually assaulted twice, physically assaulted twice and I am now verbally abused on a daily basis, especially on late night trains. It leaves me feeling vulnerable and shaken." Railway worker
We understand that for survivors violence can be impossible to talk about. However, worker stories (even anonymous ones) are incredibly powerful. They are a source of inspiration and power to other survivors and are difficult to discredit and minimise by employers and governments. As part of this ILO Convention campaign they can help us, at national and international levels, demonstrate the true impact of violence on workers lives.
International Labour Conference (ILC) 2018 – one step closer to a convention?
The 2018 ILC are the first set of discussions about the potential international law and we are encouraging all affiliates to lobby for representation in their National Centre delegation for this meeting next June. Armed with powerful and indisputable evidence, as an ITF affiliate, you have a real opportunity to support the case for women transport workers being at high risk of gender-based violence, and to provide the strongest possible outcome for women transport workers by influencing the language of any convention and recommendation.
We've developed a number of resources to make it easier for you to get involved (see below) and to support your ongoing action on ending violence against women transport workers.