Climate change is one of the greatest challenges faced by the world.
It is a civilisational threat, the impacts are already felt by millions today in floods, fires, droughts and heat waves.
Agreed in 2015, the Paris Agreement aims to bring together all participating nations to undertake ambitious efforts to combat climate change. In ratifying the Paris Agreement, Governments agree to the aim of limiting global temperature rise this century to less than 2 degrees Celsius above pre-industrial levels. However, most countries' national plans for reducing greenhouse gas emissions, known as their Nationally Determined Contributions (NDC's), do not mention transport, despite it being one of the largest sources of carbon dioxide emissions globally.
Why it's important 
Transport represents 25% of global energy-related greenhouse gas emissions, 15% of all emissions, and is the sector where emissions are growing the fastest. Without climate action, transport emissions are set to double by 2050. Rail, however, is already  a low-carbon transport mode, comprising only 1% of transport emissions – and has the potential to be zero-carbon when powered by zero-carbon electricity or green alternative fuels. Governments must do more to encourage people to travel by train as an alternative to more polluting transport modes, most notably cars. The expansion of publicly-owned, safe, and accessible rail networks can drive a Just Transition between transport industries and create millions of good, green jobs worldwide. 
Investment is also needed to replace remaining diesel trains, whether into electrification on a zero-carbon grid or zero-carbon alternative propulsion systems. For example, China and India are investing heavily into renewable energy and have plans to electrify almost their entire rail systems in the next two decades. The governments of Germany, France, Portugal, Japan, South Korea, and Australia are all investing billions into their domestic hydrogen industries to produce fuel cells and green fuels.  
In contrast to railways under public ownership, privately-owned railways driven by short-term profit incentives are less likely to carry out a green energy transition - as seen in the United States, which still relies fully on diesel. This is despite the fact that electrification yields more returns on investment in the long term – and a habitable planet. 
The sustainable decarbonisation of transport must be built on four  areas: 
Electrification

of transport and its energy use (including the decarbonisation of energy systems) 
Modal shift

from more pollutant forms of transport, including road freight and air, to rail 
Multimodality

of transport networks; a shift towards an integrated network of low-carbon transport systems 
Democratic

shift from informal work to formal, low-carbon, safe, good jobs – state investment and leadership that works with unions, employers and civil society for a Just Transition   
We want Investment and expansion in rail that creates decent employment and green jobs: protecting and improving working conditions, increasing safety for workers and passengers and providing adequate training  
 Our demands: 
A

Green New Deal for Transport

, with public stimulus spending of 5% of pre-Covid-19 GDP on a modal shift to rail. 

Recognition of rail as

green infrastructure

as part of any environmental and decarbonisation targets, policies and spending.  

Investment in

multi- and inter-modal transport systems

, feeding into existing and new rail networks for both passengers and cargo.  

Massive and urgent public investment in

high-speed rail

as green infrastructure critical to the modal shift for long-distance transportation.  
Green jobs guarantees

from rail operators and employers for all infrastructure investment.  

Public investment in

electrification

of rail, and

solar- and hydrogen-fueled

rail.  

Renewable energy

for rail by: 
Bringing fossil fuel industries under majority public ownership. 
Massive public ownership of, and investment in wind, solar and tidal energy sources. 
The expansion of rail and low-carbon technologies must adhere to Just Transition principles, workers and their trade unions must be included in decisions about the transition 

Commitments to targets for rail expansion and a modal shift to be included in Nationally Determined Contributions (NDC's) 

Governments to establish Rail Industry Decarbonisation Task Force with union representation to oversee long-term delivery plans for decarbonising and expanding rail networks. 
What unions can do: 
Use ITF briefing to lobby Government ministers and decision makers to prioritise investment in rail, promote modal shift, and include rail expansion in their NDCs 

Submit freedom of information requests to compare government funding in rail investment with more carbon intensive projects such as road infrastructure or airport expansion. Use the data to challenge decision makers and hold them accountable. 

Sign our petition to COP26 and distribute amongst members to sign 

Include Just Transition demands in collective bargaining 
Print and disseminate Safe and Sustainable rail flyer to raise public awareness of rail as key to de-carbonisation (to be made)
Connected
news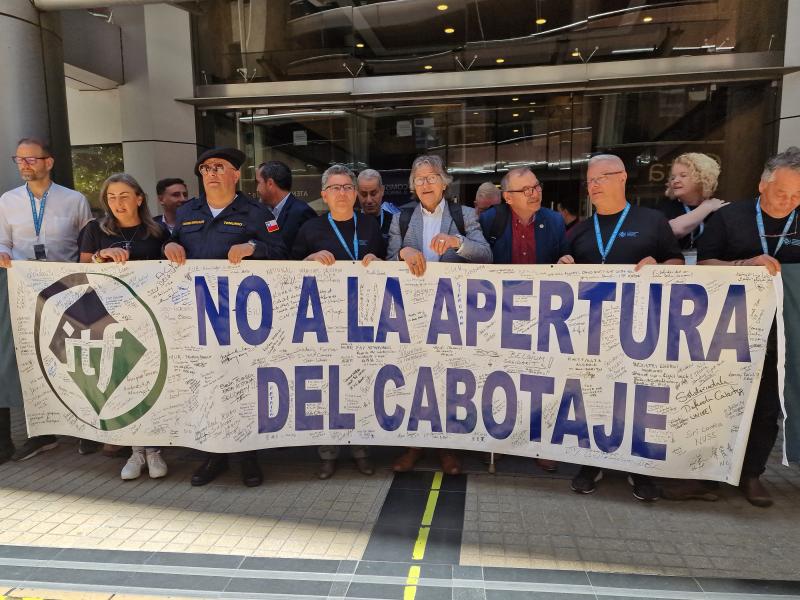 news
Press Release
07 Dec 2023
7 December 2023, Santiago – Delegates from across the world at the International Transport Workers' Federation (ITF) dockers' and seafarers' conferences in Santiago, Chile, joined with Chilean trade
resources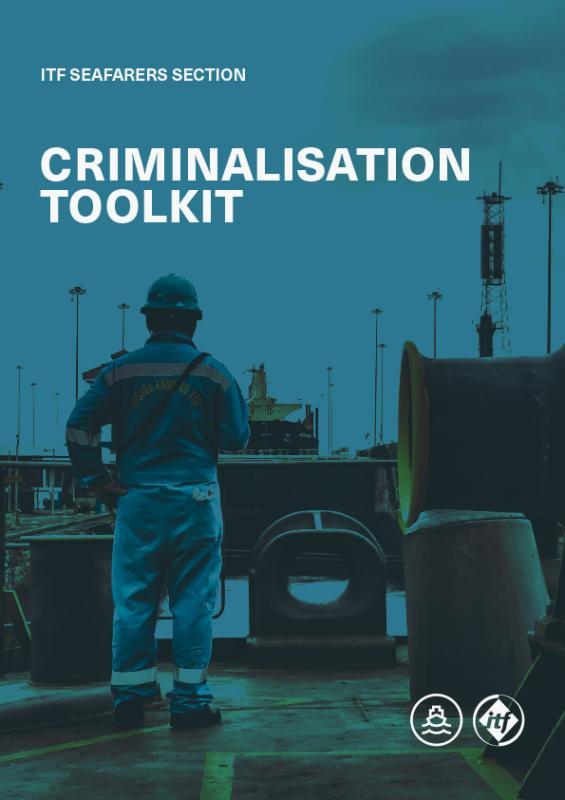 Criminalisation is one of the most serious problems facing seafarers today. When there has been a maritime accident, or a pollution infringement, seafarers have often been detained and denied access