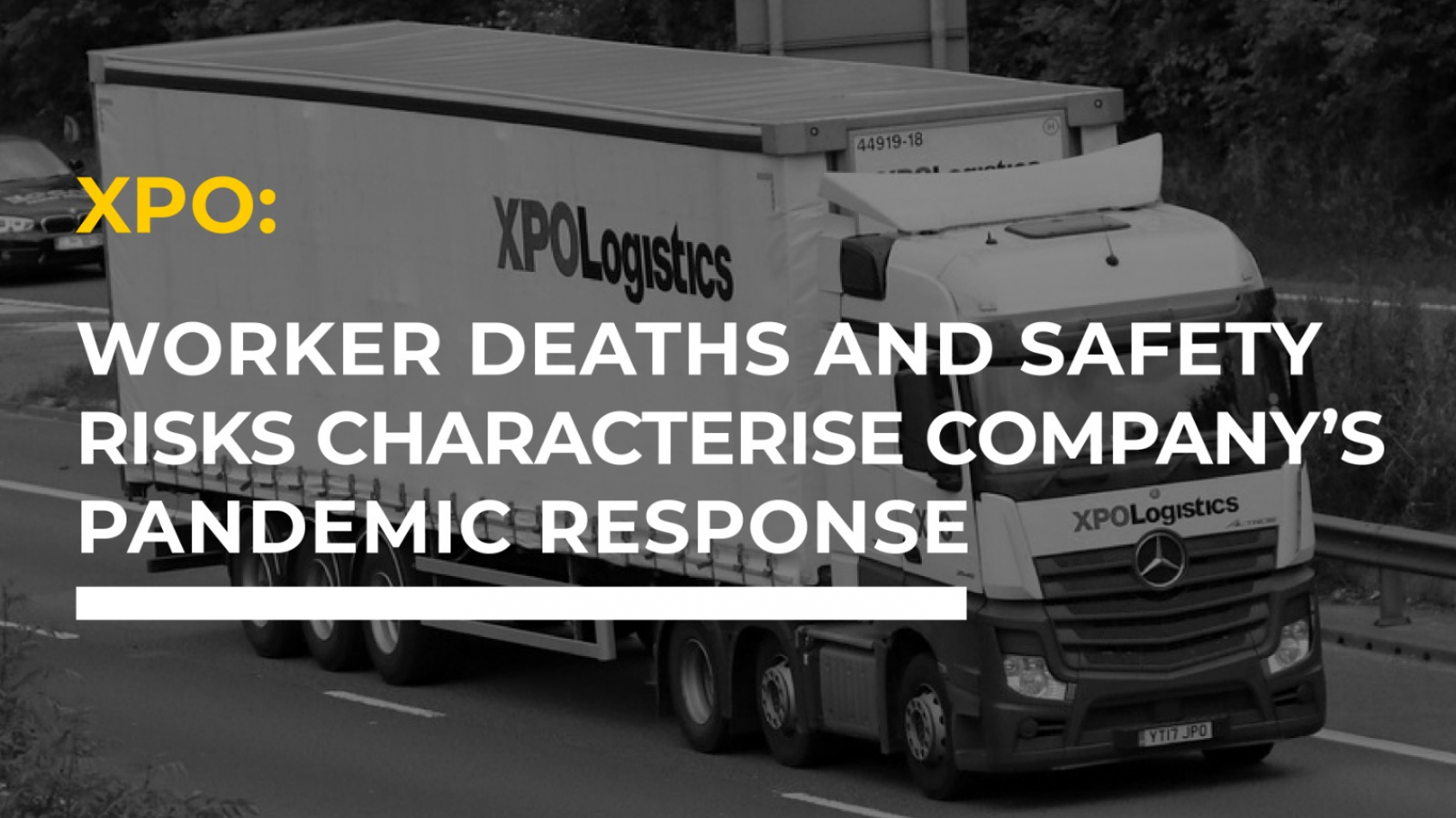 At least six workers at the logistics giant XPO have died after contracting Covid-19.
The confirmed deaths were of workers employed on XPO operations in France, Italy, Britain and the Netherlands. Although it remains unconfirmed whether the six individuals contracted the virus in the workplace, all key workers face an increased risk to life and health during the current pandemic. Employers of key workers bear a heightened duty of care at this time.
In this context, workers and union officials yesterday gave evidence to the company's investors about XPO's continued failure to protect its workforce during the Covid-19 pandemic. Investors are being urged to vote for much-needed corporate governance reforms at the company's upcoming annual general meeting, while unions are demanding a Global Occupational Health and Safety Forum to prevent more deaths.
Concerns raised across multiple countries
On 19 March, one week after the World Health Organisation declared a pandemic, the first case of Covid-19 was confirmed at XPO France. Workers withdrew their labour on the same day from 07:00 to 12:00 local time to pressure XPO into implementing physical distancing and providing the necessary personal protective equipment (PPE).
French XPO worker David Mondesir said: "I myself had to go out and buy my own gloves and wipes, and forget about masks because there were none. We went and got extra protective equipment where we could and distributed it to our colleagues."
While XPO eventually agreed to the workers' safety demands and implemented new measures, these were too late for some. "I had a colleague who was working with me for 17 years and she's dead now. She had two kids and they've lost a mum now. We were extremely affected by this death and we're still concerned."
In the USA, employment misclassification has left outsourced workers with even less protection during the pandemic. Without access to basic rights including paid sick leave and health insurance, American worker Jose Rodriguez described his choice whether to go work as "whether to put food on the table and pay medical bills".
In Britain, GMB official Mick Rix described the lack of protection in accessing one XPO site as "an alarming shambles". One worker who requested PPE was asked by a manager "why don't you go out and buy your own?". GMB has demanded the closure of one site pending a deep clean by the company.
Workers in other countries have also raised serious concerns about XPO's response to Covid-19. In Spain unions have highlighted the lack of physical distancing in warehouses. A Spanish XPO worker told investors: "There are many instances where there can be contagion. The workers have the feeling that the company is not caring about them and are very nervous."
Meanwhile, in Switzerland, XPO fired 40 warehouse workers and refused to negotiate a redundancy 'social plan' with the union, as required by national law. This is despite the company recently issuing $850 million of corporate debt to keep afloat during the crisis.
International response needed
The XPO global network of unions has written to the company ahead of its annual general meeting, making a set of demands to substantially improve its response to the pandemic. Most importantly, XPO must set up a Global Occupational Health and Safety Forum with workers' representatives from each country of operation to build strong protections across national borders.
ITF inland transport secretary, Noel Coard, demanded that XPO does better for its workers. "It is extremely sad to learn of the worker deaths. Like every employer, XPO has a responsibility to ensure its employees are safe at work. In these unprecedented times, the safety of workers needs to be paramount."
"To avoid more casualties, it is vital that XPO listens to unions on how to implement protective measures. It is also important that the same, best-practice response to Covid-19 is rolled out across all of XPO's operations in all countries. The only way to do this is to set up a Global Occupational Health and Safety Forum. We hope the company will listen and act on this request – it could literally save lives."
ITF women transport workers and gender equality officer, Jodi Evans, added that "as logistics is a male-dominated sector, the necessary additional measures for keeping workers safe need to incorporate the specific needs of women workers. This includes women's representation in decision-making, implementation and monitoring. Any measures should apply regardless of workers' contractual status and be responsive to different genders."