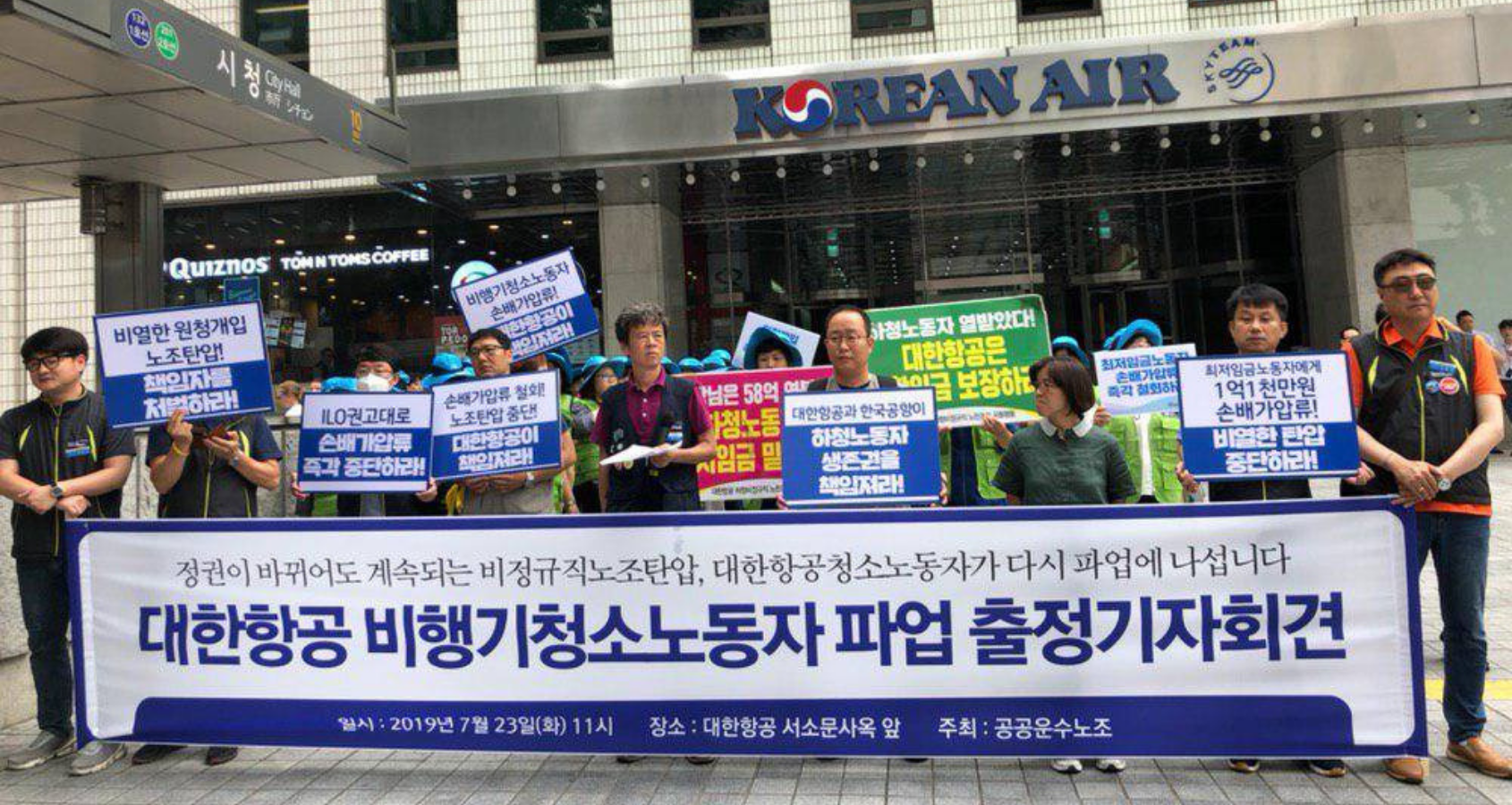 Aircraft cleaners on strike at Korean Air have the full support of the ITF family across the globe.
The cleaners, represented by the Korean Public Service and Transport Workers' Union (KPTU), have been engaged in a campaign of intermittent work to rule and strikes after negotiations with their management broke down. On Tuesday the workers began an indefinite period of industrial action, facing significant repression for asserting their fundamental rights.
In response to these actions, the cleaners' employer has sued 12 union activists for a combined total of KRW 110 million (USD 930,000). These activists have also seen their bank accounts frozen, despite the fact that the lawsuit is still pending.
Although responsible for cleaning Korean Air cabins, the workers are employed by an outsourcing company, EK Manpower, which has a contract with Korean Airport Service, a subsidiary of the airline. Engaged for the minimum wage and exposed to poor working conditions, this is a clear example of how outsourcing and privatisation are damaging labour standards in the aviation sector.
Last week, ITF civil aviation secretary Gabriel Mocho Rodriguez wrote to the chief executives of both EK Manpower and Korea Airport Service, demanding that they cease the repression of union activists and informing them that the ITF will support any escalation that the workers and KPTU deem necessary.
Since then a number of ITF affiliates – including the International Association of Machinists and Aerospace Workers, the International Brotherhood of Teamsters and the Toronto Airport Workers Council – have also written to the chief executives expressing solidarity with the South Korean workers.
The International Labour Organisation (ILO) has repeatedly warned South Korea over its employers' extensive use of outsourcing and their tendency to pursue legal action against union activists. The country has yet to ratify the fundamental ILO conventions on freedom of association and collective bargaining which would mark a commitment to fair labour practices across its economy.