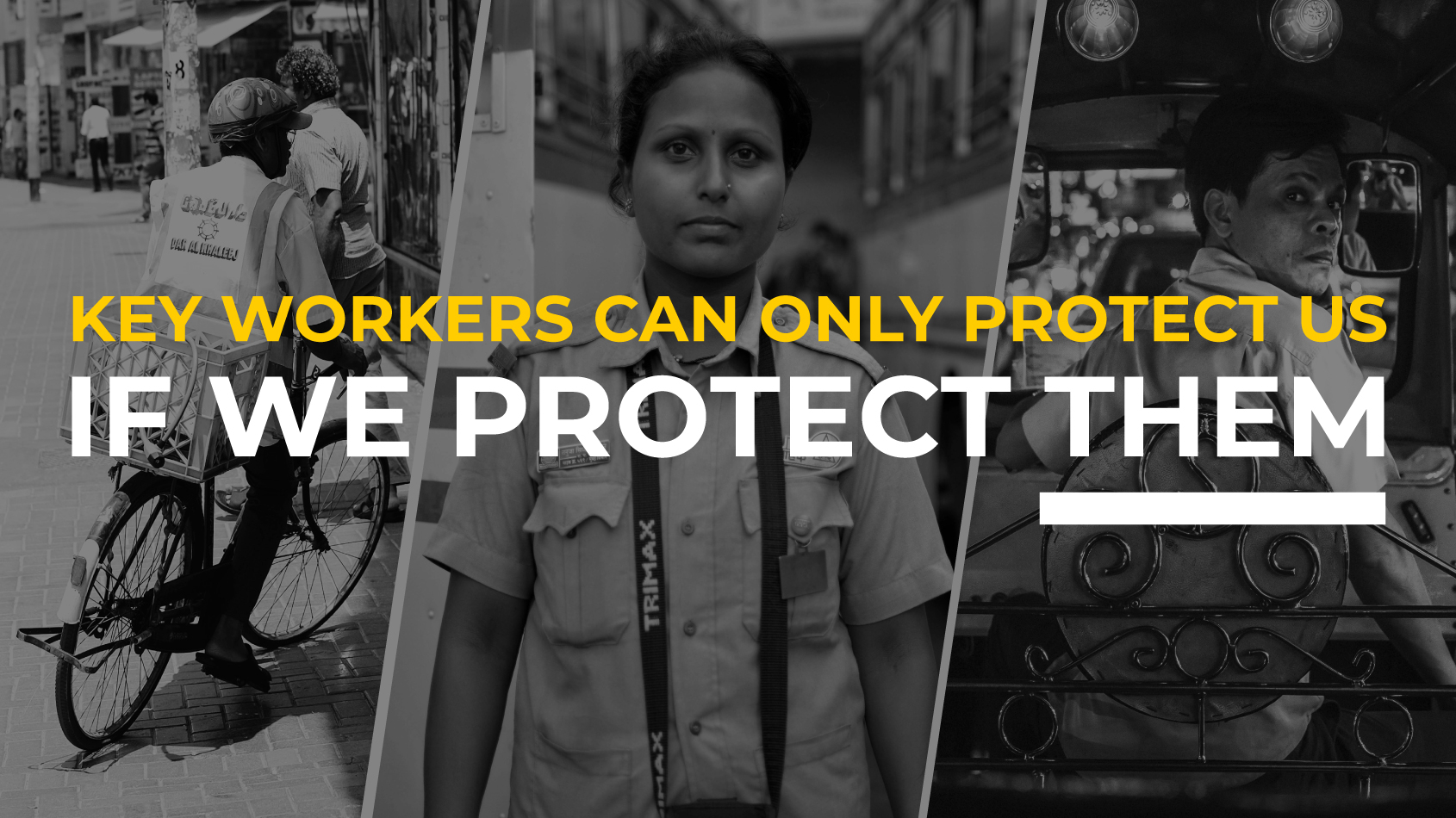 Global trade union leaders Sharan Burrow, general secretary of the International Trade Union Confederation (ITUC), and Stephen Cotton, general secretary of the International Transport Workers Federation (ITF), write about the importance of protecting supply chain workers during the Covid-19 pandemic.
As the coronavirus pandemic has deepened, we have seen images on news reports across the globe of empty shelves in supermarkets as 'panic buying' has sparked shortages of food and medicines.
The surge in demand driven by people stockpiling essential goods has highlighted to the millions of people at stores looking for toilet paper, paracetamol or pasta, the vulnerability and shock that Covid-19 has placed on global supply chains, and the workers that must sustain them through this crisis.
Our health workers are heroes but there are also many others on the frontlines. Protecting supply chain workers who are critical to defeating coronavirus, beyond the frontline emergency service workers, must be a priority for governments to ensure the supply of medical products, food and other essentials.
Agricultural workers continue to work in vulnerable conditions to ensure we have food. Transport workers, including seafarers and dockers are ensuring that essential goods continue to move around the world. Workers are keeping public services operating, so that other doctors and nurses can travel to where they are needed. Food delivery riders and drivers have become lifelines, delivering everyday items and keeping families and individuals in isolation. The same goes for manufacturing, warehouse, logistics and grocery store workers at every step of the way.
What is now obvious to people worldwide is that these workers are indispensable in dealing with this emergency.
This week, trade unions wrote to G20 leaders calling for an inclusive response to the Covid-19 pandemic that recognises and acts to protect the health, incomes and jobs of key workers fundamental to responding to, and eventually overcoming, this pandemic. This will also be key to stabilising economies and the real economic recovery. Alongside healthcare workers, supply chain and transport workers are putting their lives on the line to protect us all.
Governments and employers need to work together to identify workers affected by the crisis and take steps to protect them. This includes providing enhanced pay to reflect the risk of exposure to coronavirus, and income protection for other workers whose work has diminished as a result of the crisis. These measures should apply regardless of workers' contractual status. Workers in the gig economy and other non-standard forms of employment should be the priority for income support and health and safety protection, they cannot be left at the back of the queue.
Critically, at every level, solutions must be found through genuine collective action between unions, governments, employers and institutions.
Measures must be taken to ensure immediate functioning and long-term sustainability of supply chains. Supply chains cannot be maintained without a workforce. The workers need to be supported to do their jobs, they need genuine remuneration and all their fundamental rights respected.
The world needs workers to continue transporting essential goods across borders to where they are most needed at any given time. It is vital that the world's seafarers are granted exemptions from travel bans when joining or leaving their ships, in order to keep the world's maritime supply chains functioning. Bottlenecks at national and even state borders on our roads causing unnecessary delays and interruptions to supply chains must also be dealt with.
It is imperative that personal protective equipment is provided, that infection control and medical products are in the hands of those who need them the most, and that provisions are in place to support and care for impacted families. And workers must have an active voice in day to day health and safety management. As the risks in workplaces escalate on a daily basis, workers must be listened to about the best ways to keep everyone safe.  
Now more than ever we need to support labour inspections to ensure health and safety and other standards are enforced, as well as workplace controls, protocols and training.
What we are witnessing is a standout moment in history; a heroic effort by our frontline health workers, and all the supporting cast through supply chains, to lead us through this crisis. It is incumbent on those in power to give protections to workers vital to the Covid-19 response the tools to do their jobs, whether it's through income support, equipment or workplace safety. They can only protect us if we protect them.
The G20 has committed to a massive pledge of USD5 trillion in an economic stimulus of unprecedented proportions. The pledge includes a massive boost for health, protections for workers, jobs and the economy and a commitment to international cooperation at a time when multilateralism and the capacity to deal with global challenges have been in decline. To implement these aspirations social dialogue with business and unions to design and deploy vital support is critical.
We remind business however, that they have a duty to respect human rights, which includes a responsibility to protect the health and safety of workers in their supply chains. We thank those companies working with unions to protect workers, jobs and keep supply chains open, but we call on others who are looking to their own profits to understand that they too are at risk.
This pandemic has tragically exposed the inhumanity of a supply chain model which ruthlessly exploits working people, particularly women and migrants, through the denial of human and labour rights, poverty wages and insecure work. We must emerge from this crisis with new commitment to a model of shared prosperity and decent work for all.
As we work our way through this crisis, we must learn lessons if we want to build strong, sustainable, more equal economies. A fragmented economic system with informal employment and diminishing labour rights isn't going to cut it in the future.