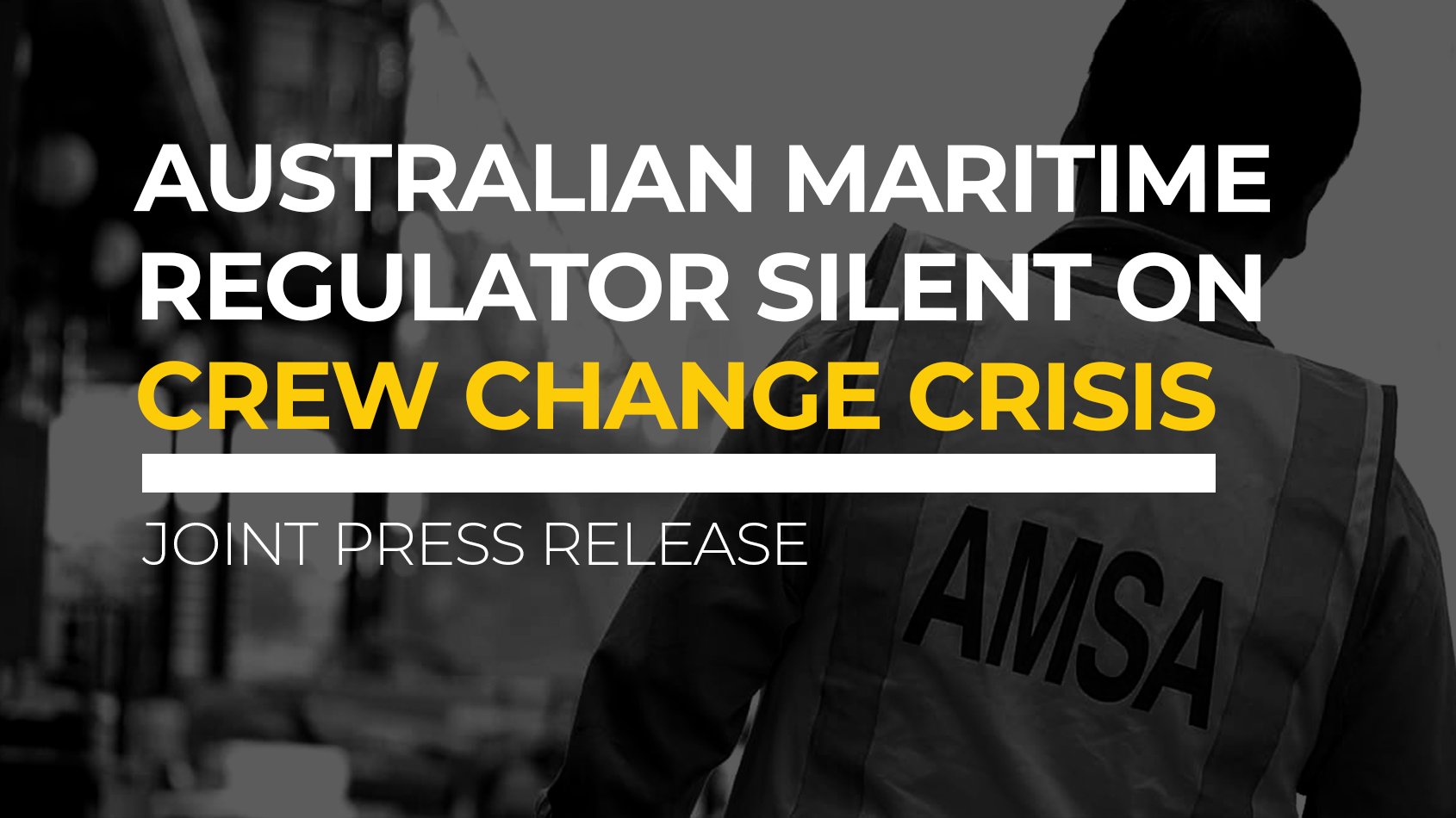 The International Transport Workers' Federation (ITF) and the Maritime Union of Australia (MUA) says the Australian federal government has been asleep at the wheel of the crew change crisis – risking trade, Australia's economy and seafarers' lives.
"On Thursday, when the UK was hosting a virtual international summit on the crew change crisis, Australia didn't even dial in. It's just the latest sign that there is no leadership from the federal government or its regulator to deal with the deepest maritime crisis in living memory," ITF President and MUA National Secretary Paddy Crumlin said.
The Australian Maritime Safety Authority (AMSA) confirmed that they had received 31 "complaints about seafarer repatriation" under the Maritime Labour Convention, which gives  seafarers the right to stop working, get off the ship and be flown home, once their contracts have expired. Since 1 March 2020, AMSA has only detained one ship, the SKS Doyles – a Norwegian flagged tanker – where it found that "11 seafarers had expired contracts of employment", Crumlin said.
The Maritime Labour Convention – which Australia is a signatory – sets a maximum 11 months that a seafarer can be on board. Due to coronavirus, border and transit restrictions, crew changes have become more difficult, along with flights and other repatriation logistics.
The ITF and the international maritime community believes there are more than 200,000 seafarers stuck working on board ships beyond their contracts around the world, many of whom visit Australian ports every day.
"Fatigue, mental and physical health problems are becoming commonplace and an urgent humanitarian response is needed around the world. As an island nation completely reliant on shipping, Australia should be front-and-centre and the federal government must get involved," Crumlin said.
"It's time for Prime Minister Scott Morrison to take control of this situation and work with state governments, and their health agencies, to bring in a safe, effective repatriation corridors for international crew changes in Australian ports."
"Morrison needs to wake up the AMSA leadership and direct them to urgently respond to the deepening crisis. There is good intentions across the maritime sector but there is no leadership, no vision and no international participation," Crumlin said.
ITF Australia Coordinator, Dean Summers, said AMSA has been sending the shipping industry the wrong message by the regulator telling ship owners it would accept extensions on crew contracts and accept seafarers' work tours of up to 14 months, even if doing so violated the international Maritime Labour Convention that Australia is signatory to.
"The tide has washed away the line in the sand drawn by the Australian regulator and the industry is in a crisis which is worsening every day. Immediately following the reappointment of the CEO Mick Kinley, AMSA announced that they would accept contract extensions of up to 14 months and more if the owners promised to repatriate later. That's unacceptable," said Summers.
"It seems AMSA's flexibility knows no limit with that now being lengthened to 14 months using the Covid-19 pandemic as an excuse. This puts Australia in the same category as countries like Panama, which allowed ships registered under their flag to keep crew on board for up to 17 months until it bowed to international pressure," said Summers.
Summers says that the ITF has been bombarded with pleas for help from masters, chief engineers and crew complaining that their ships are unsafe, crew are fatigued to a reckless degree, and that accidents are imminent.
On Thursday, at the UK summit, 13 nations, including the US, the UK, Denmark, Germany, Saudi Arabia and the UAE agreed to a 7-point action plan to facilitate safe crew changes for the world's seafarers, involving the aviation industry to get more of the 200,000 overworked seafarers home.
Summers simply asks, "Where was Australia?"


Media contact: media@itf.org.uk | +44 20 7940 9282