Container safety is an issue for port workers, seafarers, truck drivers and railway workers - the workers in direct contact with the containers along the transport chain. But it's also a serious concern for managers, schedulers and warehouse operators, who form part of the chain of responsibility.
Accidents can be fatal. They can happen at any stage of the transport chain – and it's not just transport workers who are at risk of injury, members of the public can be hurt too.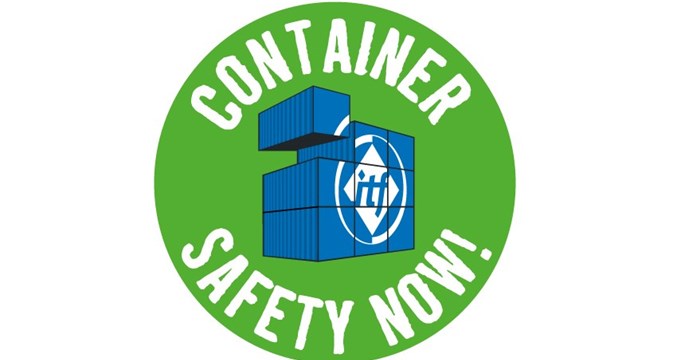 Container safety: how the ITF is taking action
The ITF's road transport, railway, dockers and seafarers sections are running a cross-sectional campaign on container cargo safety from 2014 to 2018. Its primary aim is for safety and responsibility along the transport chain. We are concerned with:
the misdeclaration of contents, including dangerous goods and container weights
improper packing
fumigation and toxic gases in containers. This was the ITF theme for International Workers' Memorial Day 2015. Find out more
Global standards
The International Maritime Organization (IMO), International Labour Organization (ILO) and the United Nations Economic Commission for Europe (UNECE) have prepared a draft code of practice on the 'safe packing of cargo transport units'. This was endorsed by their governing bodies in 2014 – a process which involved the ITF.
At the IMO, tentative measures have been taken to check container weight declarations through the SOLAS (safety of life at sea) amendment.
The vital role of the unions
Union members can play a key role in the campaign for better container safety. This includes the industry, the general public and the political decision-makers on a national basis.
You can do this by:
speaking up about cases of dangerous practices and sharing the evidence
lobbying governments to implement global standards on container safety
getting governments to adopt those standards into legislation
teaming up with unions in other sectors to run joint activities and raise awareness of the issue
campaigning for responsibility along the transport chain
Download documents on the right, from the the ITF container safety toolkit to help with your own campaigning on container safety.
Let us and the rest of the ITF family know about your actions around container safety by:
Emailing reports and pictures to: containersafety@itf.org.uk
Using the social media sharing buttons at the top of the page to share this website with your own friends and followers.
Tagging us on Facebook @ITFglobal or on Twitter @ITFglobalunion #itfcontainersafety