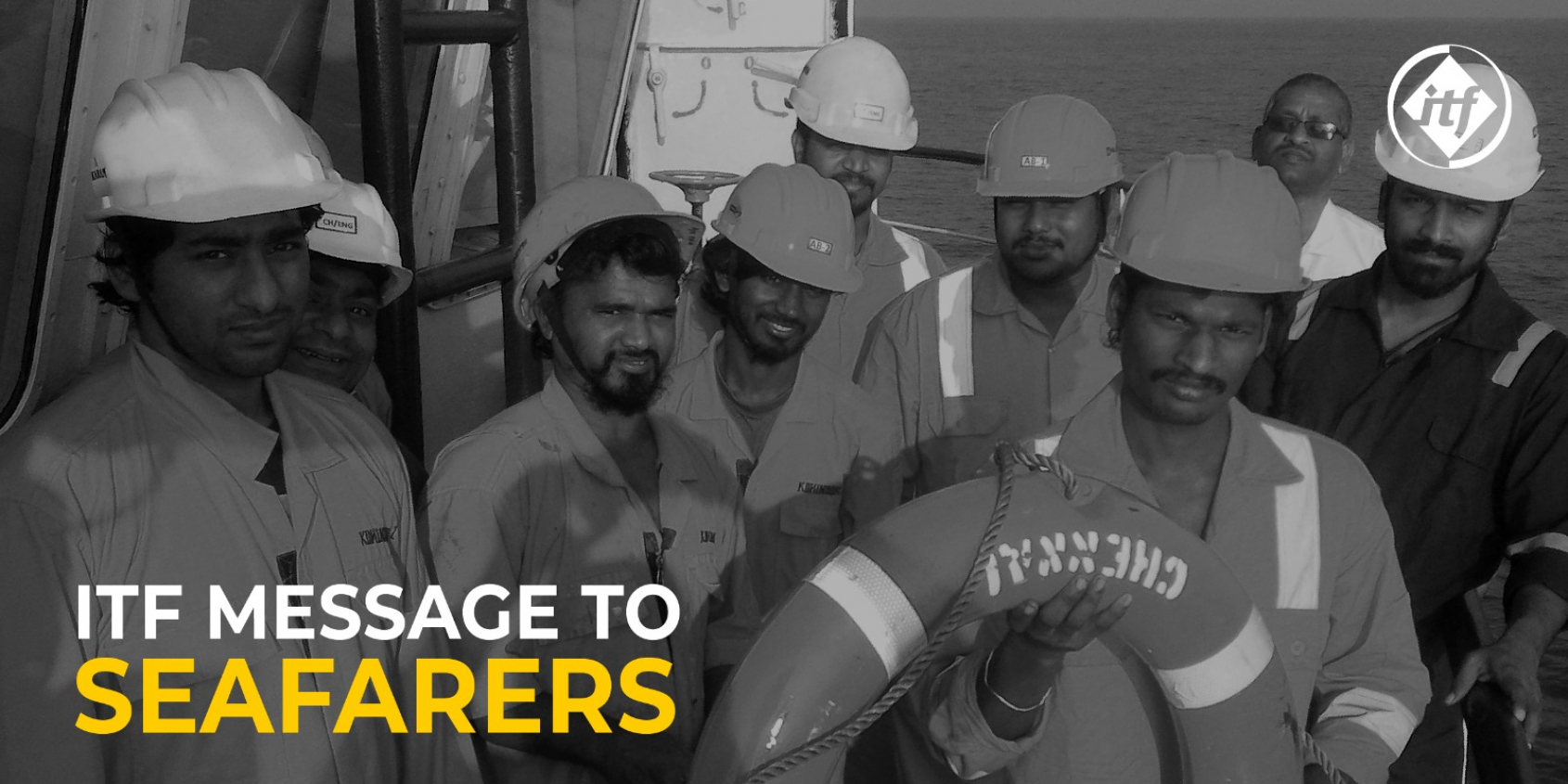 Message from ITF Seafarers' Section chair David Heindel.
This is a message for every ITF seafarers affiliate and every one of their members – the seafarers who have professionally and diligently fulfilled their jobs during this unprecedented and uncertain time.
Thank you for continuing to transport vital goods and keeping global trade moving during the Covid-19 pandemic. Without your sacrifice and the sacrifices of many other transport workers, the world would have been in a much worse state and likely would have come to a complete standstill.
On March 12, the World Health Organisation (WHO) declared the Covid-19 outbreak a pandemic. In response, countries started closing their borders and imposing social distancing and restrictions on movement to try and contain the spread of the virus. Despite these restrictions and the threat of exposure to the virus, our unions and their members, the world's seafarers, continued to perform their duties to ensure that the essential goods we need to live day to day are delivered.
Considering the overall health and safety of the seafarers, on March 17 we agreed a month-long extension to crew contracts through to April 16. This was mutually agreed to by seafarers' unions and companies that are signatories to ITF Agreements.
With none of us having experienced dealing with a pandemic, we had no idea how long this global health crisis would last, how bad it would get, or what needed to be agreed with employers and governments as the situation progressed. The ITF's foremost concern and priority along with our affiliates when the decision was made to extend seafarers' contracts was to keep seafarers healthy and safe while also enabling ships to keep moving.
This has come at a huge sacrifice for many seafarers and their families as the various lockdowns and restrictions imposed by governments instantly brought international crew changes to a complete halt. It has been impossible for our seafarers to go home or replacement crew to sign on, and some countries have even denied seafarers their basic right to receive emergency medical attention and dental treatment.
In late April, the ITF again agreed to extend contracts for another 30 days to allow discussions and consultation with industry and UN agencies on the development of protocols to ensure safe ship crew changes and travel during the coronavirus pandemic and to continue to give governments the assurances that crew changes would not exacerbate the spread of the virus.
After weeks of intense work by the ITF, and many of its affiliated seafarer unions, developing protocols and lobbying industry and governments, the international maritime community has finally secured a "roadmap" for governments to facilitate crew changes. Consequently, on May 5, the International Maritime Organisation (IMO) issued a 12-step plan to their 174 Member States on how to "restart" crew changes so that seafarers can disembark, and fresh crews can be deployed. Unfortunately, this does not automatically mean that restrictions will be lifted immediately since each government must put in place processes and procedures for crew changes to happen, but it is a step in the right direction.
After months of lockdowns due to Covid-19, governments are now looking at and developing plans to ease restrictions and gradually reopen businesses. Now more than ever these businesses will need our seafarers to deliver the food supplies, manufactured goods and raw materials to sustain our societies.
The industry requested another extension to crew contracts while governments operationalise the protocols, but the ITF and its affiliates strongly felt that another extension would be counterproductive and agreed a 30-day implementation period of the protocols effective from May 15 through to  June 15. During this time the ITF expects governments to take concrete actions to facilitate crew changes. The ITF will review the implementation period on June 1 to ensure that efforts have not been in vain.
For people who have not worked on a ship, it is hard to understand what it is like to live and work for six, eight or even 10 months on board. For seafarers it is a lifestyle, but when contracts end, seafarers are ready to go home and have an absolute right under the International Labour Organisation (ILO) Maritime Labour Convention 2006 (MLC) to do so.
Just as the public is looking forward to finally seeing their family and friends as Covid-19 lockdowns ease, we know from the many representations made by our affiliated unions that seafarers are too. However, unlike the rest of the population it has not been a couple of months, for many seafarers we know that it has been almost a year and for some even longer.
In his daily briefings the WHO Director-General has reiterated the need for "national unity and international solidarity" – for seafarers sailing in international trade this has meant closed national borders and being expected to carry on with their work for the solidarity and benefit of the world without the world showing solidarity in return.
Rest assured that the ITF and its affiliated unions will continue to pressure UN agencies, governments and employers to prioritise the facilitation of crew changes for the world's seafarers so that it is no longer an issue. The global community must take the collective responsibility and not only acknowledge seafarers as "key workers" but meaningfully demonstrate that their rights as enshrined in international and national legislation such as the ILO MLC are respected.
There are many heroes on the front lines of the pandemic, from health care workers and cleaners to those in the food industry and in every mode of transportation including seafarers. The ITF and our affiliates – your unions – will not let up the pressure until every seafarer is home safely and those seafarers that have patiently waited at home to relieve their colleagues are on board so that the world's goods continue to get where they are needed thanks to all of you. If the worlds governments want to assure trade continues to flow uninterrupted, it is vital that seafarers are given the ability to change crews without delay.
We will continue to communicate the progress of our efforts on our dedicated Covid-19 Updates page and the ITF Seafarers website as well as our social media pages.