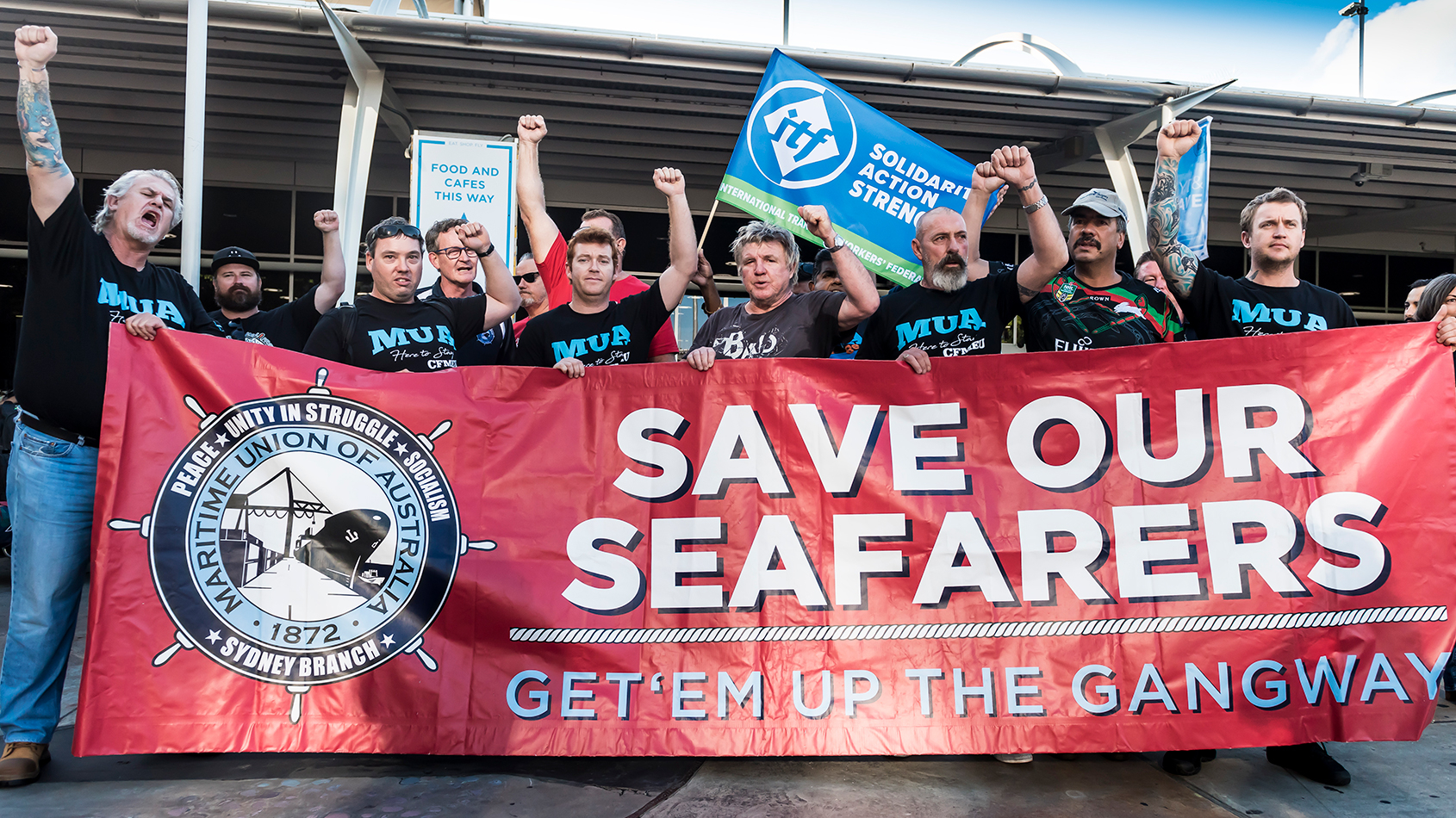 The fight to defend Australian seafarers is spreading internationally as Canadian unions today joined to rally in solidarity to support their Australian counterparts who are battling to have legislation implemented at home to protect their jobs.
On the back of the recent sacking at sea of Australian seafarers by BHP and BlueScope facilitated by the Morrison government, workers and the Maritime Union of Australia have set up a 'Save Australian Shipping' jobs embassy on the lawns of Parliament House in Canberra.
Live-streamed to the Canberra gathering from rallies across Canada, Canadian seafarers and dockers collectively called on the Australian government to enact cabotage laws that will ensure domestic maritime workers are protected while working in their domestic waters.
 
 "Today's demonstration shows the strength of seafarers across the globe," said James Given, chair of the ITF Cabotage Task Force and president of the Seafarers' International Union of Canada (SIU of Canada). "Whether from Australia, Canada or elsewhere, we are the brothers and sisters of the sea, and we fight to protect our own."
"Earlier today we met with the Australian High Commission and gave them a clear message to take back to their government: Australian waters, Australian jobs. The world is now watching, this isn't just in Australian anymore, this is now on our shores and we're going to take it across the world," said Given
The SIU of Canada joined by the ILA and CUPE 375 on the east coast, and the ILWU Canada on the west coast, demonstrated in Toronto, Ottawa and Vancouver to show support for Australian seafarers. The protests were held in conjunction with rallies held in Canberra, Melbourne and Port Kembla. The Canadian unions collectively called on the Australian government to enact cabotage laws that will ensure domestic maritime workers are protected
Last month, 80 Australian seafarers were laid off without notice from two vessels that carried iron ore from Port Hedland in Western Australia to steelworks in Port Kembla in favour of cheaper foreign labour. Without cabotage laws, these practices are perfectly legal, and maritime workers are concerned layoffs will continue.
In January, a delegation from Australia visited Canada to learn about Canada's domestic maritime policy, which is regarded as one of the best in the world. The unfortunate situation in Australia demonstrates the importance of ensuring these laws are protected across the globe.
"The Canadians have just met with the Australian High Commission (in Canada) and they sent a message loud and clear that this is an international struggle and seafarers the world over are uniting in standing up to fight for their rights to work in their own domestic industries. We're here in Canberra today to send that message to the politicians and to the Morrison Government loud and clear who are responsible for the sacking of these workers behind me, in collaboration with BHP and BlueScope," said Warren Smith MUA assistant national secretary. 
"They (BHP and BlueScope) have invested in areas where you don't pay taxes, where you've got no legal rights, where you've got no labour rights … We're fighting for (those workers) too, and their right to work in their own country, in their own shipping lines, on their own roads, in their own trucks, in their own manufacturing. It's not a nationalist thing, it's the right of Australians, of every Australian, to recognise and be due the respect as the people who built this wealth of this country," said Paddy Crumlin, ITF president and MUA national secretary.
"This is a turning point for us in this country. We want to build a country of fairness, a country that makes things, a country where big corporations …. pay their way, a country of full employment, of universal healthcare. Only one group is going to deliver that and that is the working men and women," said Crumlin.