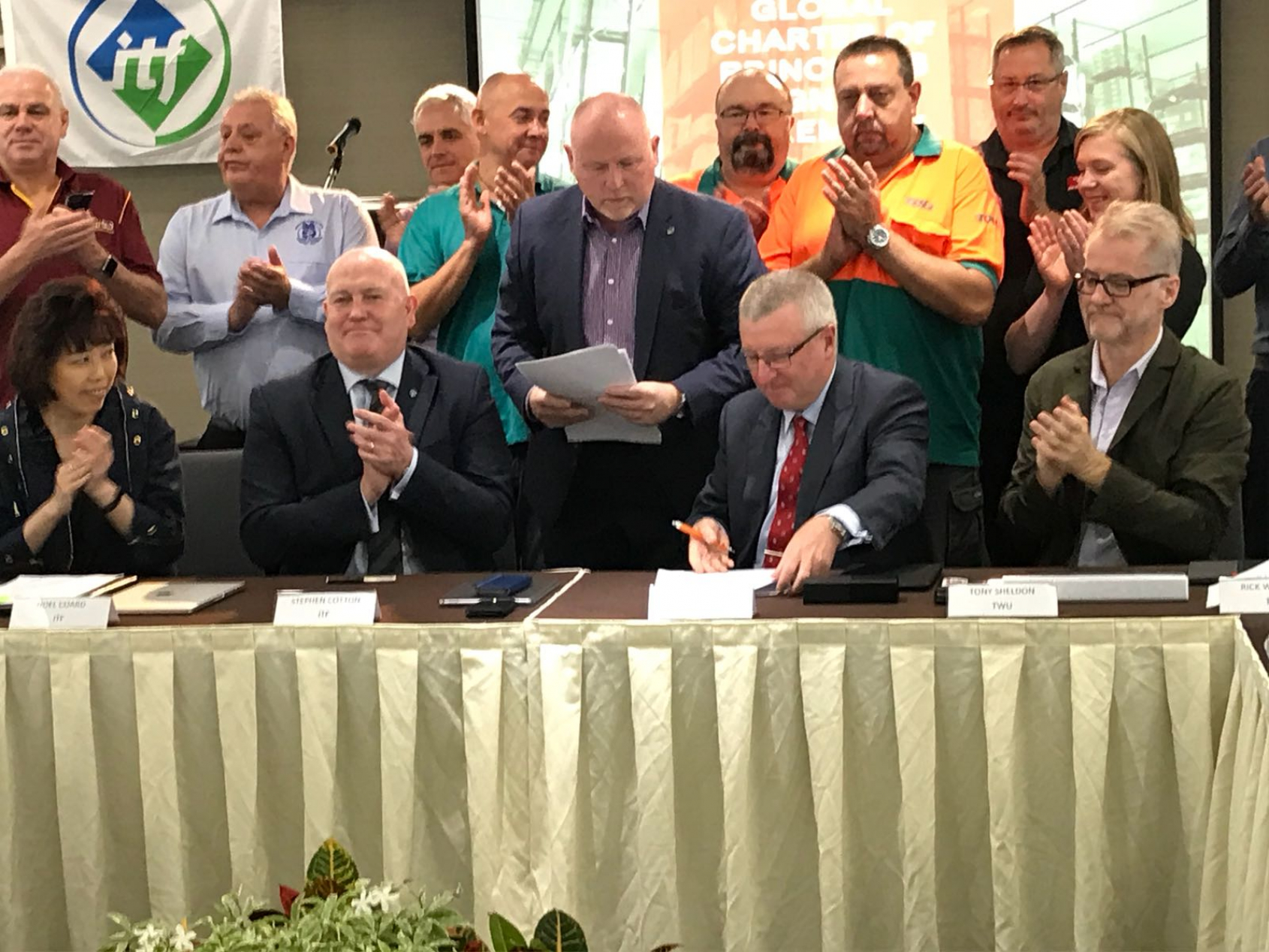 25 April 2018
SINGAPORE: Toll Group has underlined its strong commitment to ensuring safe and fair working standards for all its employees across its 1,200 sites in 50 countries, by signing a unique agreement with the International Transport Workers' Federation (ITF) and its affiliated unions.
By signing the agreement, Toll has committed to abide by international labour standards. The 'global charter of principles' outlines guiding principles by which crucial decisions will be made around the working conditions for Toll workers focusing on health and safety standards, business strategies and initiatives, improvements in working conditions in developing countries and the development of projects that increase industry standards and safety.
Under the charter, Toll, which represents 44,000 workers in road transport and distribution, logistics, supply chain and warehousing, has committed to making a significant investment in the development and implementation of a global project that will raise standards and safety in its main sectors.
The charter was launched today at an event at the ITF's newly-opened Singapore office, and was attended by ITF general secretary Steve Cotton, ITF head of inland transport Noel Coard, national secretary of the Transport Workers' Union (TWU) Tony Sheldon and Michael Byrne, managing director of Toll.
Michael Byrne said the company was delighted to be taking the lead on improving standards for transport and logistics workers.
"Our agreement with the ITF reflects Toll's broader commitment to creating a strong and viable logistics industry that fosters a safe and rewarding work environment for all. With this charter, Toll and the ITF are setting clear standards to our approach for safety, labour relations and growth in our industry. I am proud that Toll is leading the way and I look forward to working cooperatively with the ITF to shape these future standards," Mr Byrne said.   
Steve Cotton said: "Toll's workers are vitally important to their success. Their expertise, experience, ideas and motivation make the company what it is. The signing of this agreement truly shows Toll's promise to put their workers first and we are committed to a healthy working relationship with Toll through full and constructive dialogue.
"The unions we represent continually strive to protect and honour their members and today marks a giant step in the right direction for raising standards for workers."
END