SIXTEEN DAYS OF ACTIVISM AGAINST GENDER VIOLENCE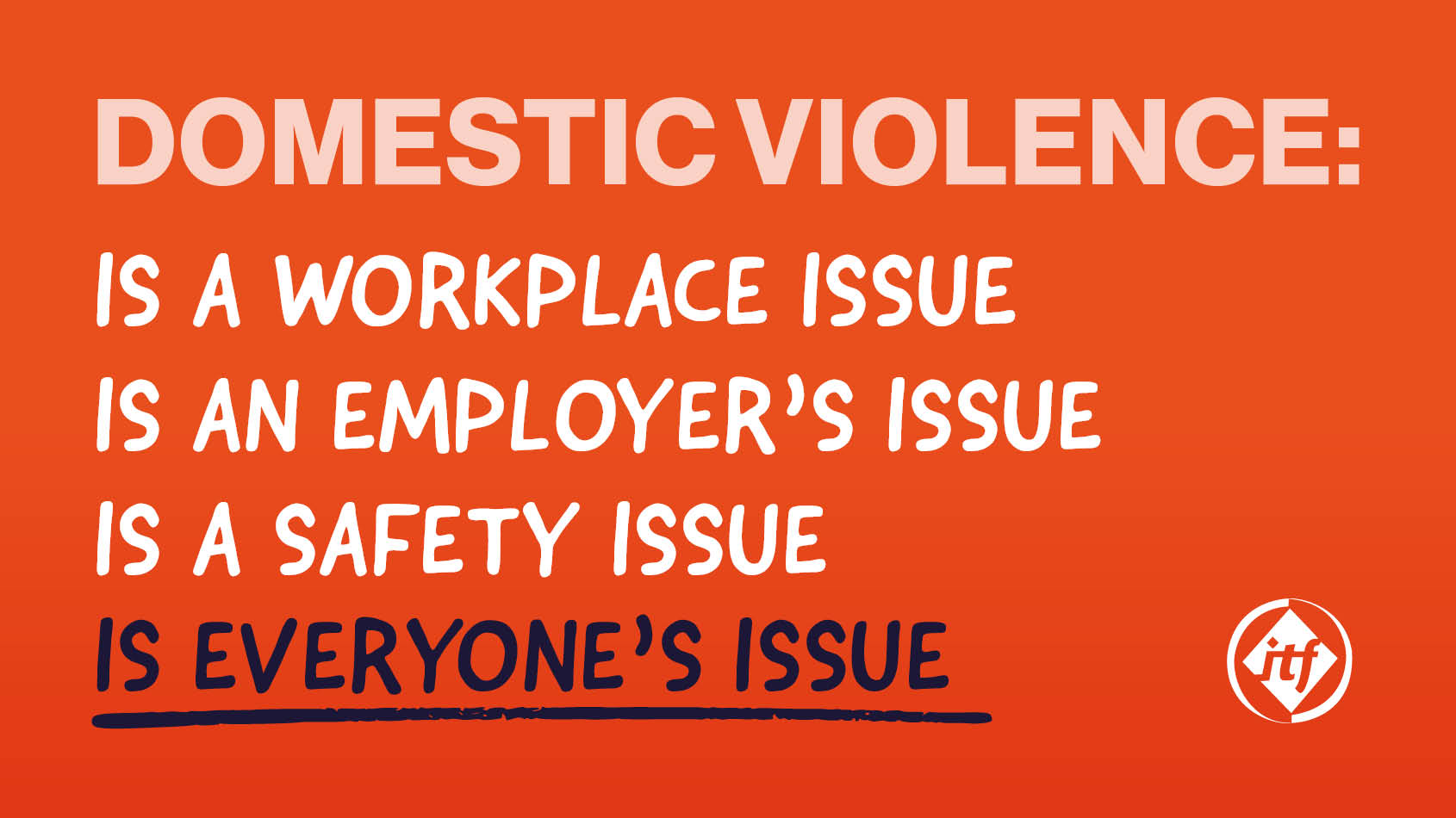 عن الحملة
The ITF is calling out toxic and destructive gender norms which enable and support gender violence, both in the transport sector and everywhere in life. We are asking men to be active allies and part of the solution to eliminating violence against women, by challenging harmful norms, stereotypes and everyday microaggressions. 
The 25th of November is #UNDay for the Elimination of Violence Against Women, and launches #16days of activism on ending violence against women (25 November – 10 December) around the world.
To mark this, the ITF is launching a new report on domestic violence perpetration in workplaces, based on research conducted in India. The report highlights the experiences of men who engage in domestic abuse and shows clearly the negative impact their abusive behaviour has on their workplace, their colleagues, on productivity, and everybody's safety at work.
As we continue to recognise the impact abuse has on survivors, this #16days of activism, we wish to shift the focus and talk about men's behaviour. The report shows clearly that domestic violence is a workplace issue, and a men's issue, and calls on employers and workplaces to do more to tackle domestic violence.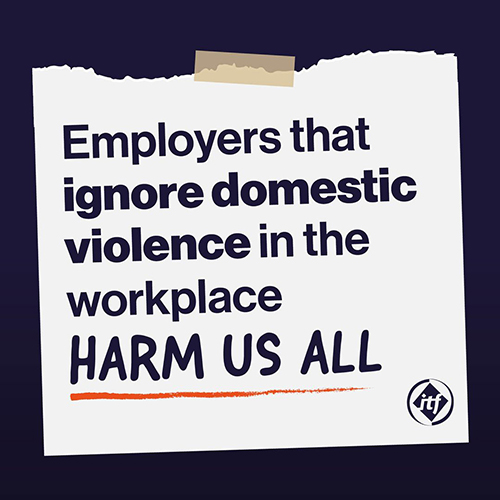 The report describes how perpetrators use coercive control and controlling behaviour, often used strategically alongside violence and threats of violence. But the report also makes clear the ways in which microaggressions contribute to a toxic workplace, which can lead to a violent workplace, where perpetrators feel comfortable with being abusive at work. Violent workplaces are at greater risk of accidents, injuries and fatalities. 
While most men might not be part of the problem, all men can be part of the solution. Men transport workers can and must make a difference.
Let's take the first step to creating better workplaces and talk about violence against women. What kind of abusive behaviour do your members see in their workplaces, and how can and do men challenge these?
We would like to hear from you on Twitter or on Facebook. Let us all take action to work towards the elimination of violence against women transport workers. #StopGBVatWork #16days
DEMAND YOUR GOVERNMENT COMMITS TO ENDING VIOLENCE AND HARASSMENT AT WORK
So far, nine countries have ratified ILO Convention 190 on violence and harassment in the world of work. The Convention has entered 'into force' for Fiji and Uruguay, meaning its provisions have become binding on these States. The Convention enters into force for subsequent ratifying States twelve months after the registration of their ratification with the ILO.
C190, the ILO's first international convention that directly targets eradicating violence and harassment, including gender-based violence,  in the 'the world of work'. Importantly, it includes incidents in the course of, linked with, or arising out of work – but also extends beyond the workplace to places where workers use sanitation facilities as well as commuting to and from work. 
Far too few countries have ratified the convention - and without sustained pressure from trade unions, we risk this vital agreement simply gathering dust on a shelf in some UN office.
That's why unions must commit to taking up this fight - and that's why ITF affiliates are taking the pledge to commit to fighting for C190.